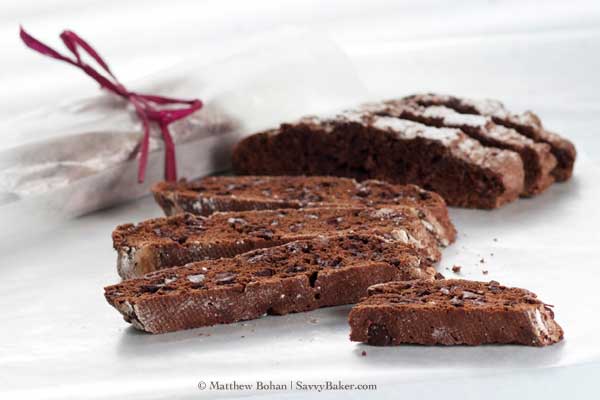 My dad's "baby" sister turned 70 this month, and my cousin threw an amazing surprise party for her. After asking about Aunt Lois's preferences—coffee and chocolate over a citrus, cherry or nut combination—I created these to bring along for the big day.
Though they boast more chocolate than any of the other biscotti recipes I've shared so far, they don't have any added oil—only that contained in the chocolate chips. They also fulfill the USDA's recommendation to "make half of your grains whole." If you use the right cocoa (not Dutch processed) and bittersweet chocolate chips (60% cacao), you might even gain some antioxidant benefits from the chocolate. I wouldn't go so far as to say these are health food, but if you're going to have dessert, it might as well taste great AND provide some nutritive value!
These biscotti are incredibly rich and a little easier to eat than some. (We joke that if you don't dunk them in coffee or tea, some biscotti require gnawing. That's not necessarily a bad thing; these just happen to be a bit gentler on the dental work.) Anyway, these are now one of my favorites. Given my chocoholic tendencies, I guess that's not much of a surprise.
Fortunately, my aunt shares the same tendencies. Here's a review from the guest of honor herself: "The chocolate was almost better this way than the sweetness of a piece of chocolate, and that is saying something coming from someone who is a big chocolate fan. Two thumbs up from me!!!"
So there you have it. Happy birthday, Aunt Lois!
Aunt Lois's Über Chocolate Mocha Biscotti
Makes 2 dozen biscotti
2 3/4 cups 50/50 flour*
1/2 cup cocoa
1 teaspoon baking powder
1/8 teaspoon salt
3/4 cup brown sugar
3 large eggs
1/3 cup brewed coffee at room temperature
1 teaspoon vanilla extract
1 cup semi-sweet or bittersweet chocolate chips or chunks
1/2 cup mini semi-sweet chocolate chips
2 tablespoons powdered sugar (optional)
* You can buy this off the shelf, but I use a less-expensive homemade mix of all-purpose and whole wheat flour. If you don't have a mix ready, use 1 1/2 cups of whole wheat flour and 1 1/4 cups of all-purpose flour for this recipe.
Preheat oven to 350°F. Cover a large baking sheet with parchment paper or a Silpat mat.
In a medium bowl, whisk together first four ingredients: flour, cocoa, baking powder and salt.
In the bowl of an electric mixer, combine brown sugar, eggs, brewed coffee and vanilla. Blend on medium-high speed for 1 minute.
Add flour mixture to wet ingredients and blend until thoroughly combined.
Add all chocolate chips (and/or chunks), mixing until they are fully incorporated. Dough will be stiff.
Turn dough out onto Silpat mat or a work surface dusted with flour.
Using wet (for Silpat only) or lightly floured hands, shape into a log about 16 inches long, 4 inches wide and 1 inch thick.
If using, sift powdered sugar over the entire loaf.
Bake on prepared pan for 30 minutes at 350° F.
Remove from oven and cool for 10 minutes. Reduce oven temperature to 325° F.
Carefully transfer log to cutting board and cut diagonally into 1/2-inch slices.
Place slices upright on the mat or pan, spacing them about 1/2 inch apart.
Bake 20 minutes at 325° F.
Transfer to wire racks to cool.
Store in an airtight container at room temperature for 4 or 5 days. To extend storage time, freeze in an airtight container immediately after cooling.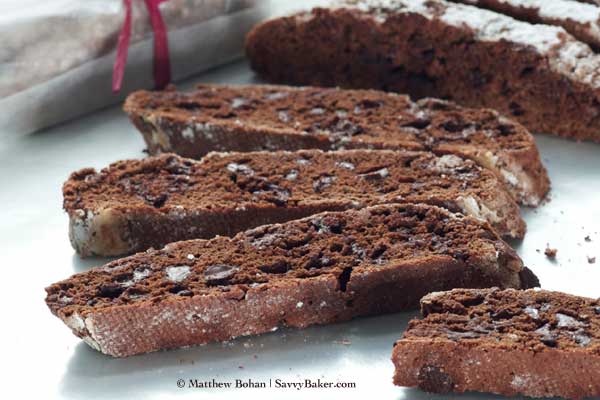 © Liesl K. Bohan  |  SavvyBaker.com