These festive frozen treats are adapted from a recent issue of Family Fun magazine. You and your children can make them for the Fourth of July or any other summer day.
This recipe is short and sweet, requiring only one main ingredient: yogurt. High in protein and calcium, yogurt is often touted for a variety of nutritional benefits, including improved digestive function, boosted immune response and increased fat loss.
As long as you use low fat or nonfat yogurt that is low in sugar, these pops are healthy alternatives to most other frozen fare. Check the sugar content on the label, for some brands—especially those marketed toward children—have more sugar than an equivalent serving of ice cream. (We don't use products with artificial sweeteners, so we don't buy "lite" or sugar-free yogurt.)
If any of your children have known allergies to red or blue food coloring, you'll want to skip this recipe or opt for a different color scheme.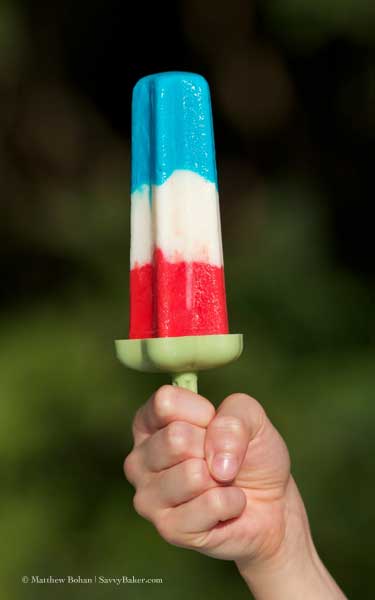 Patriotic Yogurt Pops
Makes 6 half-cup servings
3 cups nonfat or low fat vanilla yogurt, divided
1/2 teaspoon red food coloring
1/2 teaspoon blue food coloring
6 ice pop molds or comparable home-crafted substitute
Stir blue food coloring into one cup of yogurt, keep one cup of yogurt as is (white), and stir red food coloring into the last cup of yogurt.
Divide blue yogurt evenly among molds. Pouring is fine for this step.
Using a spoon, carefully scoop white yogurt into molds, distributing evenly over the blue layer. To prevent color runs or blends, do not pour.
Using the same method as the white layer, scoop red yogurt into molds.
Cover and freeze until set, about 6 hours.
Variations
Use Greek-style yogurt for all or part of this recipe to improve the texture of the pops.
Stir a few drops of lemon or lime juice into the yogurt along with the food coloring.
Use blueberry or blackberry yogurt for the blue layer and raspberry, strawberry or cherry yogurt for the red layer.
Nutritional Data Sources: www.whfoods.org, Wikipedia, and SelfNutritionData
© Liesl K. Bohan  |  SavvyBaker.com