This is another version of the microwave granola I shared in an earlier post. This one is a little crunchier—and pricier—because of the honey and extra canola oil.
As for the rolled barley and rye, I first bought these in bulk last year to try expanding our whole grain options. Matt and I have had fun experimenting with them in several bread recipes, and I have found that one of the best places to feature them is in granola. If you don't have either, simply use rolled oats; this granola tastes great either way.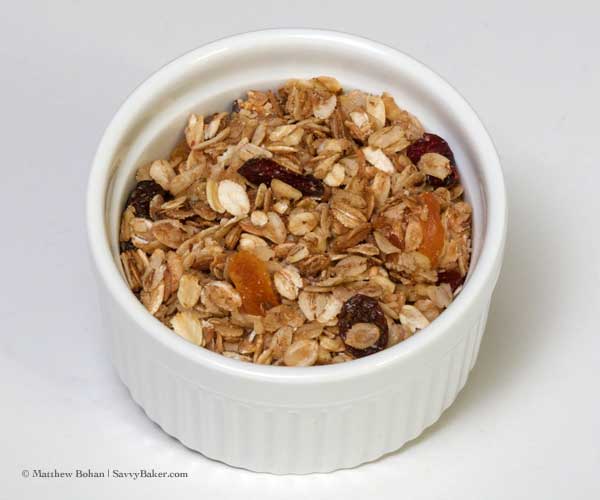 Fast and Fruity Walnut Granola
2 cups rolled oats, not instant
2 cups rolled barley or rye (or more oats)
1 cup crushed walnuts
2 tablespoons brown sugar
1 teaspoon cinnamon
1/4 cup honey
3 tablespoons canola oil
1 teaspoon vanilla
1 cup (total) raisins, dried cranberries and/or chopped, dried apricots
Combine the oats, barley or rye, walnuts, brown sugar and cinnamon in a large bowl and mix well.
Add honey, oil and vanilla to the dry ingredients and stir until combined.
Transfer to a shallow microwave-safe baking dish and microwave on high for 2 minutes.
Remove dish, stir well and then microwave on high for 2 more minutes. Repeat once or twice, stopping to stir at one-minute intervals to prevent burning.
Overall, the granola should be in the microwave for a total of 6-8 minutes, until lightly browned. It should not be in for more than 2 minutes at a time.
After cooking, stir in dried fruit and spread in a large, shallow pan to cool.
When cooled completely, store at room temperature in a tightly sealed container.
© Liesl K. Bohan  |  SavvyBaker.com