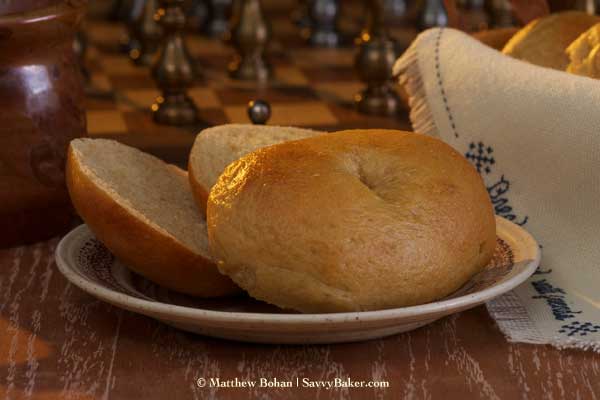 I'm baaaack!
Actually, I should say that Matt's back. He's the one who concocted, baked and photographed these tasty treats. All I have to do is share his work—and enjoy these yummy, easy-on-the-budget homemade bagels!
Once the outside temperature drops each fall and we can actually appreciate the extra heat in the kitchen, the Savvy Hubby declares it to be "bagel time," and we all reap the benefits. Though I may have been the first to experiment with them ages ago, he's definitely the bagel master in our house.
Suspecting that one of our Panera favorites features a sourdough base, he's been wanting to try this combo for a while. The cheddar flavor is subtle, but the overall taste and texture are superb for breakfast, lunch or snack time. These are on the tender side, making them more suitable for sandwiches that some bagels.
Sourdough Cheddar Bagels
Makes 12-16 bagels (2 pounds)
1 1/2 cups water
1 1/4 cups sourdough starter
1 cup shredded extra sharp cheddar cheese
4 tablespoons barley malt extract
2 tablespoons canola oil
2 teaspoons salt
3 cups bread flour
1 cup whole wheat flour
2 1/4 teaspoons rapid or instant yeast
2 tablespoons barley malt extract, brown sugar or molasses (for the water)
Add the first five ingredients (water through salt) to bread machine* in the manufacturer's recommended order. (These are listed in the order best suited to our machine and instant yeast.)
Run the dough cycle.
Lightly dust a work surface or Silpat mat with flour. Upon completion of dough cycle, turn dough out onto prepared surface or mat.
With lightly floured hands, divide dough into 12-16 equal balls.
Working one at a time, stick your thumb through each dough ball and rotate dough until the hole reaches desired width. Keep in mind that the hole will shrink when the bagel rises.
Cover and allow to rise for 30 minutes or until doubled in size.
While dough is rising, add 2 tablespoons of barley malt extract, brown sugar or molasses to a large, wide pot filled with water (about two-thirds full) and bring to a boil.
Preheat oven to 400° F and cover a large baking sheet with a Silpat mat or a light coat of cooking spray.
After dough has risen, carefully drop bagels into boiling water in sets of two or three. Without allowing them to touch, boil for 30 seconds on each side. Do not leave them in too long. Using a slotted spoon, transfer bagels to a wire rack or floured tea towel to drain, and then boil the next set.
Once dry, place bagels on prepared baking sheet and bake for 20-25 minutes, until tops are golden.
Allow to cool before slicing.
* If you don't have a bread machine, use a stand mixer instead. Toss everything in the bowl in the order listed above. Then, using a dough hook, blend on the lowest speed until ingredients form into a ball. Continue mixing for another 5 minutes, stopping to push dough back into the bowl as needed. (It tends to climb up the dough hook.) Remove hook, cover bowl with a clean tea towel and place in a warm, draft-free area for 90 minutes. Then follow the directions above starting at #3.
Store in a tightly sealed container at room temperature for 2-3 days.
© 2012 Liesl K. Bohan  |  SavvyBaker.com