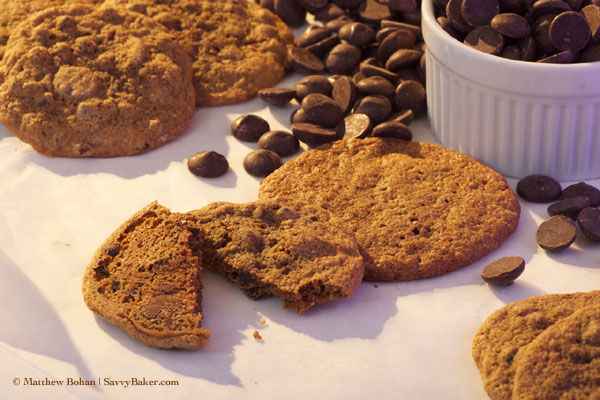 There's just a hint of coffee in these cookies, and the toffee comes from a delectable combination of the first two ingredients: butter and brown sugar. The result is an irresistibly chewy cookie packed with a scrumptious combination of chocolate, coffee and almond meal.
As for their appearance, what they lack in attractiveness they make up for in addictiveness. Seriously. After seeing the first batch, I immediately started planning the next one in order to improve their look, but as I found myself drawn back to the cookie jar time and time again, I decided that I shouldn't change too much. (Actually, after making a few adjustments and baking a great-looking batch that didn't taste nearly as good, I decided not to change anything!)
Adapted from a Food Network recipe, this one contains "sneaky" whole grains, protein, fiber and a touch of fruit atypical for such treats. See if you can resist having more than one (or two) at a time!
BTW, the texture of ground flaxseed doesn't appeal to everyone, and these cookies are still delicious when it is omitted, so choose accordingly.
Coffee Toffee Chocolate Chip Cookies
Makes just over 2 dozen cookies
1/2 cup (1 stick) unsalted butter at room temperature
3/4 cup lightly packed brown sugar
1 large egg
3 tablespoons unsweetened applesauce
1 tablespoon instant coffee granules
1 teaspoon vanilla extract
1 1/4 cups 50/50 flour mix*
1/2 cup almond meal
1 tablespoon ground flaxseed (optional)
1 teaspoon baking powder
1/2 teaspoon baking soda
1/4 teaspoon salt
1/2 cup bittersweet (60% cacao) chocolate chips
1/2 cup mini semisweet chocolate chips
* Note: You can buy this off the shelf, but I use a less-expensive homemade mix of all-purpose and whole wheat flour. If you don't have a mix ready, use 3/4 cup of all-purpose flour and 1/2 cup of whole wheat flour for this recipe.
Preheat oven to 325°F and line baking sheet with a Silpat mat or parchment paper.
Cream butter and sugar in a stand mixer.
Add egg, applesauce, coffee and vanilla. Mix slowly at first, then scrape down sides and beat until well combined.
In a separate bowl, whisk together flour, almond meal, flaxseed (if using), baking powder, baking soda and salt. Add to wet ingredients and blend until combined.
Add both types of chocolate chips and mix well.
Drop dough one medium cookie scoop or packed tablespoon at a time onto prepared baking sheet, about 2 inches apart.
Bake 12-14 minutes, until set.
Cool for a few minutes on baking sheet, then remove to a wire rack to cool completely.
Store in a loosely covered container.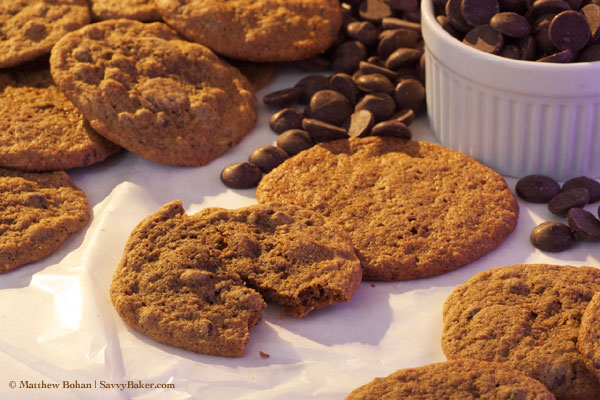 © Liesl K. Bohan  |  SavvyBaker.com