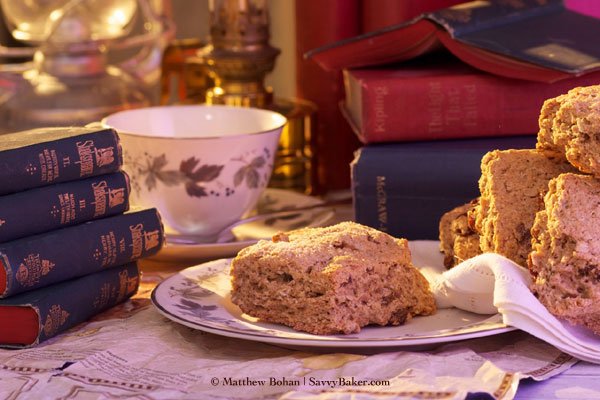 Subtly sweet with a hint of orange, these scones are at their best when paired with a hot drink. Given their UK heritage, tea seems most appropriate, though this variety is not particularly dainty. Indeed, these are probably better suited for a farmhouse bed and breakfast than an old-fashioned drawing room. Dense and hearty, they provide nutritional benefits via dried fruit, Greek yogurt, nonfat milk and two types of whole grains.
While the shape of these scones is reminiscent of ones served long ago at my then-favorite Cleveland coffeehouse, their flavor is adapted from the first scones I ever baked—a Sunset cookbook version with real cream. The "cream" in these is actually a fat-free yogurt and milk combo. I always think it's an added bonus when you can enjoy the flavor without the guilt!
Orange "Cream" Scones
Makes 12
3 cups 50/50 flour mix*
2 1/2 cups rolled oats, not instant
2/3 cup brown sugar, lightly packed
3 teaspoons orange peel
3 teaspoons baking powder
1 teaspoon baking soda
1/2 teaspoon salt
8 tablespoons (1 stick) chilled unsalted butter, cut into small pieces
2/3 cup nonfat milk
1/3 cup plain nonfat yogurt
1 teaspoon orange extract
1 cup raisins, golden raisins or currants
* You can buy this off the shelf, but I use a less expensive homemade mix of all-purpose and whole wheat flour. If you don't have a mix, use 1 1/2 cups each of whole wheat and all-purpose flour for this recipe.
Preheat oven to 350° F, and cover a large baking sheet with a Silpat mat or cooking spray.
Place dry ingredients (flour through salt) in the bowl of a stand mixer.
Using the whisk attachment, blend until combined.
Add butter and blend until mixture resembles coarse crumbs.
In a separate, small bowl, whisk together milk, yogurt and orange extract.
Add milk mixture to mixing bowl. Using the paddle attachment, stir just until all dry ingredients are moistened. Dough will be stiff.
Mix in raisins or currants.
Working on the Silpat mat or a floured surface, form the dough into a rectangle approximately 11 x 7 x 1 inches.
Cut into 12 squares (technically rectangles), positioning them at least an inch apart on the Silpat mat or baking sheet.
Bake for 22-25 minutes, until lightly browned.
Store at room temperature in a tightly covered container for up to three days.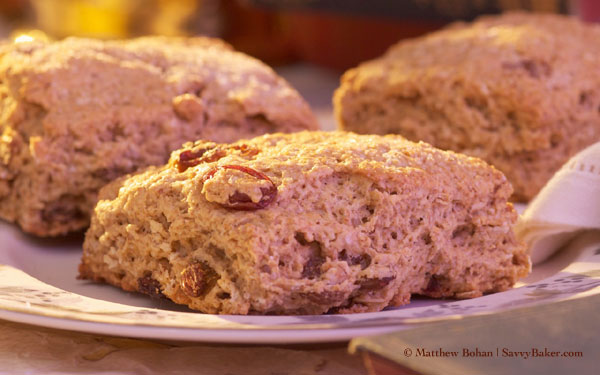 © Liesl K. Bohan  |  SavvyBaker.com