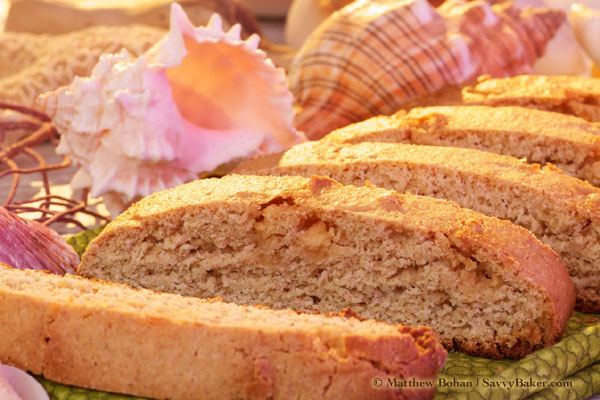 It's mid-winter here in Michigan, and we have the snow to prove it. This recipe features a tropical flair reminiscent of warmer, sunnier climes. Offset by the creamy sweetness of white chocolate morsels, key lime delivers a bright burst of flavor to these cookies, which I recommend devouring any time of year. (Right now, they're especially good dunked in hot tea.)
Though I typically rely on dried fruit, nuts or an occasional sneaky vegetable to lend a boost of vitamins and minerals to my deserts, I opted for wheat germ* this time around. It was an unexpected bonus to discover that this ingredient actually brings a hint of graham cracker "crust" flavor and texture to these treats. Thanks to Chris and Chelsea for the pie that ultimately led to this recipe!
* Wheat germ is a concentrated source of several essential nutrients, including Vitamin E, folate (folic acid), phosphorus, thiamin, zinc and magnesium. It's also a good source of fiber. (Source: Wikipedia)
Key Lime Pie Biscotti
Makes 2 dozen biscotti (including the "heels")
2 1/4 cups 50/50 flour*
3 tablespoons wheat germ
2 teaspoons baking powder
1/4 teaspoon salt
3/4 cup sugar
2 large eggs
1/4 cup key lime juice (I use Nellie & Joe's Famous Key West Lime Juice)
2 tablespoons canola oil
3/4 cup white chocolate chips
* You can buy this off the shelf, but I use a less-expensive homemade mix of all-purpose and whole wheat flour. If you don't have a mix ready, use 1 1/4 cups of all-purpose and 1 cup of whole wheat flour for this recipe.
Preheat oven to 350°F. Cover a large baking sheet with parchment paper or a Silpat mat.
Combine sugar, eggs, lime juice and canola oil in the bowl of an electric mixer. Blend on medium-high speed for 2 minutes.
In a medium bowl, whisk together flour(s), wheat germ, baking powder and salt.
Pour flour mixture into wet ingredients and blend until dough starts to pull together.
Add white chocolate chips, mixing until they are fully incorporated. Dough will be sticky.
Turn dough out onto Silpat mat or a work surface dusted with flour.
Using wet (for Silpat only) or lightly floured hands, shape into a log about 16 inches long, 3 1/2 inches wide and 3/4 inch thick.
Bake on prepared pan for 30 minutes at 350° F.
Remove from oven and cool for 10 minutes. Reduce oven temperature to 325° F.
Carefully transfer log to cutting board and, using your best bread knife, slice diagonally into 1/2-inch pieces.
Place slices upright on the mat or pan, spacing them about 1/2 inch apart.
Bake 20 minutes at 325° F.
Transfer pan to wire rack to cool.
Store in an airtight container at room temperature for 5-7 days. To extend storage time, freeze in an airtight container immediately after cooling.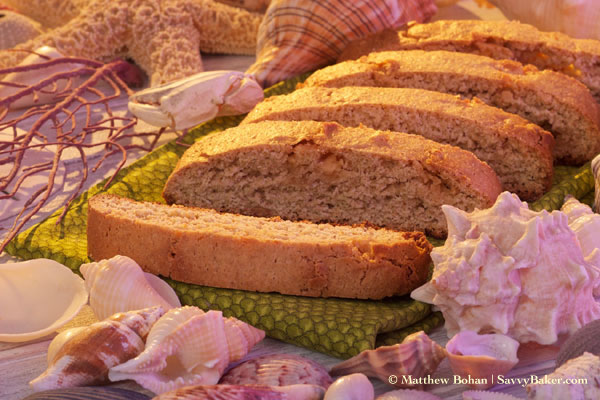 © Liesl K. Bohan  |  SavvyBaker.com