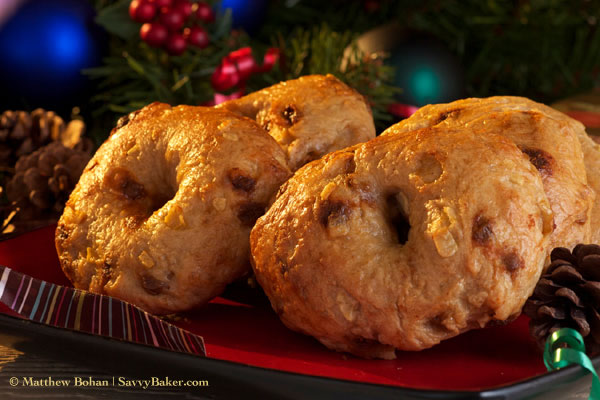 Here's a recipe that almost got lost in the holiday shuffle. Matt perfected these apple cinnamon breakfast treats just before the full-blown festivities of Christmas kicked in, and we haven't made a batch since. Now that life has returned to a slightly less hectic pace, it's time to start baking again. The cinnamon chips provide the perfect touch of sweetness and spice without having to use a more complicated streusel topping—a tasty solution to the streusel question posed with our Peanut Butter Banana Bagels.
Happy baking, and all the best to you and yours for a blessed New Year!
Note: Unlike our other bagel recipes, this one does not utilize a bread machine. Instead, we put our stand mixer to work, tossing everything in at once. We're happy to report that it works beautifully! Matt said he'll probably mix all bagels this way in the future. Our KitchenAid can hold its own against the stiff dough, and we have sometimes wondered if a particularly dense batch of bagel dough caused the ultimate demise of one of our bagel machines.
Apple Cinnamon Bagels
Makes 12-16 bagels
1 1/2 cups warm water
2 tablespoons honey
1 tablespoon canola oil
1 1/2 teaspoons salt
1/2 teaspoon cinnamon
1 1/4 cups whole wheat flour
3 cups bread flour
4 teaspoons rapid or instant yeast
1 cup diced, peeled apples
3/4 cup cinnamon baking chips
2 tablespoons brown sugar (for the water)
Add the first five ingredients (water through cinnamon) to the bowl of a stand mixer, and then add the next three ingredients so that the yeast is sprinkled over the bread flour.
Using a dough hook, blend on the lowest speed until ingredients form into a ball. Continue mixing for another 5 minutes, stopping to push dough back into the bowl as needed. (It tends to climb up the dough hook.)
Add apples and cinnamon baking chips. Run the mixer on low for another 1-2 minutes, until the apples and chips are fully incorporated.
Remove hook, cover bowl with a clean tea towel and place in a warm, draft-free area for 90 minutes.
Lightly dust a work surface or Silpat mat with flour. Turn dough out onto prepared surface or mat.
With lightly floured hands, divide dough into 12-16 equal balls.
Working one at a time, stick your thumb through each dough ball and rotate dough until the hole reaches desired width. Keep in mind that the hole will shrink when the bagel rises.
Cover and allow to rise for 30 minutes or until doubled in size.
While dough is rising, add brown sugar to a large, wide pot filled with water (about two-thirds full) and bring to a boil.
Preheat oven to 400° F and cover a large baking sheet with a Silpat mat or a light coat of cooking spray.
After dough has risen, carefully drop bagels into boiling water in sets of two or three. Without allowing them to touch, boil for 60 seconds on one side, using a long-handled spoon to ladle boiling water over the tops.* Do not leave them in too long. Using a slotted spoon, transfer bagels to a wire rack or floured tea towel to drain, and then boil the next set.
Once dry, place bagels on prepared baking sheet and bake for 20-25 minutes, until tops are golden.
Allow to cool before slicing.
* We usually flip the bagels after 30 seconds, allowing them to boil on both sides for a total of 1 minute, but too many cinnamon chips melt that way.
Store in a tightly sealed container at room temperature for 2-3 days.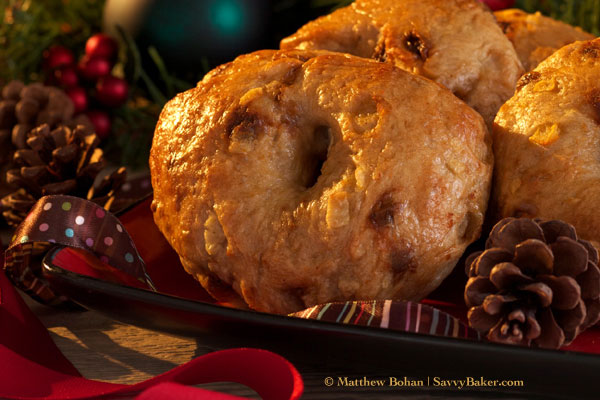 © 2011 Liesl K. Bohan  |  SavvyBaker.com