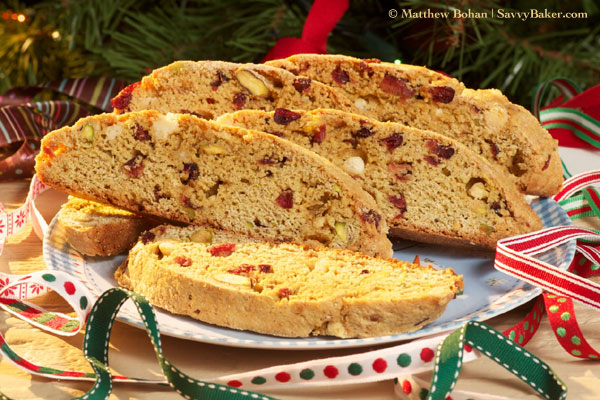 I intended to create a festive cranberry-pistachio biscotti combo last Christmas but ran out of time. Twelve months later, I finally did it! One of the advantages of waiting is that I had white chocolate chips on hand this year. I've been experimenting with them lately; otherwise, it never would have occurred to me to use them. Not only does the white chocolate add to the holiday color scheme, but it also enhances the overall flavor.
After sharing some of these with a recently retired chef last night, we were happy to see this comment in our inbox this morning: "That may be the best biscotti I've ever had."
This is a simple recipe, requiring just five ingredients for the dough plus three add-ins.
Christmas Biscotti
Makes 2 dozen biscotti
4 large eggs
3/4 cup sugar
1 teaspoon vanilla extract
3 cups 50/50 flour*
3/4 teaspoon baking soda
1/3 cup dried cranberries
1/3 cup roasted pistachios
1/3 cup white chocolate chips
* You can buy this off the shelf, but I use a less-expensive homemade mix of all-purpose and whole wheat flour. If you don't have a mix ready, use 1 1/2 cups each of all-purpose and whole wheat flour for this recipe.
Preheat oven to 350°F. Cover a large baking sheet with parchment paper or a Silpat mat.
Combine eggs, sugar and vanilla in the bowl of an electric mixer. Blend on medium-high speed for 2 minutes.
In a separate bowl, whisk together flour(s) and baking soda. Add to wet ingredients and blend until dough starts to pull together.
Add cranberries, pistachios and white chocolate chips, mixing until they are fully incorporated. Dough will be stiff.
Turn dough out onto Silpat mat or a work surface dusted with flour.
Using wet (for Silpat only) or lightly floured hands, shape into a log about 16 inches long, 4 inches wide and 1 inch thick.
Bake on prepared pan for 30 minutes at 350° F.
Remove from oven and cool for 10 minutes. Reduce oven temperature to 325° F.
Carefully transfer log to cutting board and cut diagonally into 1/2-inch slices.
Place slices upright on the mat or pan, spacing them about 1/2 inch apart.
Bake 20 minutes at 325° F.
Transfer to wire racks to cool.
Store in an airtight container at room temperature for 5-7 days. To extend storage time, freeze in an airtight container immediately after cooling.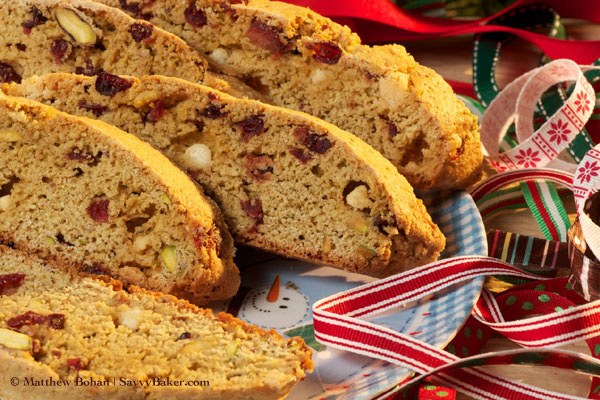 If you're in the mood to try more biscotti, here are two holiday recipes from last year: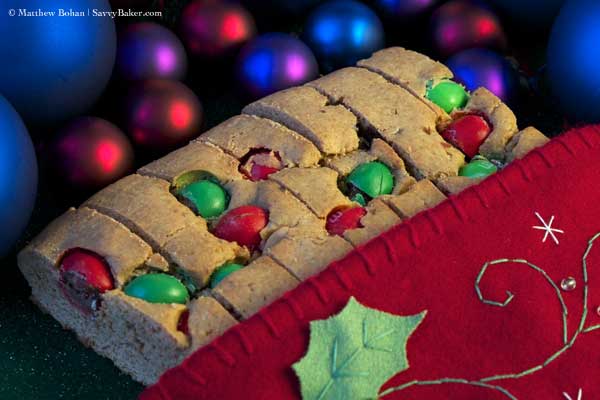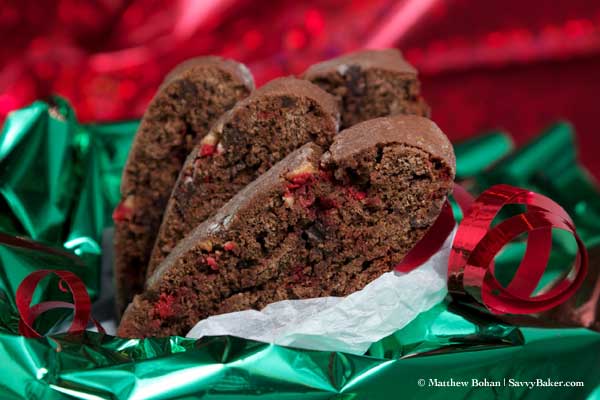 © Liesl K. Bohan  |  SavvyBaker.com