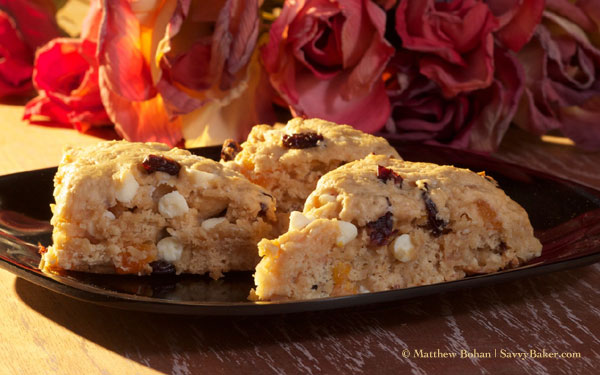 This recipe is adapted from Simply Scones by Leslie Weiner and Barbara Albright. I first tried their version almost ten years ago and was blown away by the apricot and white chocolate combination. After applying a few "savvy" changes, I'm still completely enamored with this duo, taking it to a new level in these scones by introducing Michigan dried cherries. Fantastic!
My version also includes whole grains, slightly less sugar and much less fat, because it uses evaporated fat free milk in place of heavy cream. That being said, the white chocolate "surprise" puts this into more of a dessert category than that of a truly healthful snack.
Speaking of chocolate, if you're a purist, opt for semisweet or bittersweet chocolate chips. I typically choose "real" chocolate over white, but in this recipe, I like the way the white chocolate morsels melt into the surrounding scone, especially when served warm.
Apricot Cherry Surprise Scones
Makes 9-12 scones
2 cups 50/50 flour mix*
1/4 cup packed brown sugar
2 teaspoons baking powder
1/2 teaspoon salt
4 tablespoons chilled, unsalted butter cut into small pieces
1/2 cup evaporated fat free milk
1 large egg
1 1/2 teaspoons vanilla extract
2/3 cup white chocolate chips
1/2 cup dried apricots, snipped into small pieces
1/2 cup dried cherries, chopped
* A 50/50 all-purpose/whole wheat flour combo is available in stores, but I mix my own for about half the price. If you don't have a mix on hand, just use 1 cup each of all-purpose flour and whole wheat flour for this recipe.
Preheat oven to 350° F and cover a baking sheet with a Silpat mat or a light coat of cooking spray.
Whisk first four ingredients (flour through salt) together in the bowl of a stand mixer.
Using the whisk attachment "cut" butter pieces into flour mixture, whisking until butter is fully incorporated.
In a mixing glass or small bowl, whisk together evaporated milk, egg and vanilla.
Add wet ingredients to dry and blend with paddle attachment just until moistened.
Stir in white chocolate chips, apricot pieces and cherries.
Drop dough by 1/4-cup scoops onto prepared pan (for 9 easy drop scones), OR transfer dough to prepared pan, use moistened hands to form it into a rectangle (about 8 x 6 inches), and use a knife to cut the rectangle into 12 triangular wedges, just slightly pushing the pieces apart and cleaning the knife between cuts.
Bake for 20-22 minutes, until edges are golden and a toothpick inserted near the center comes out clean. (Drop scones require less bake time than wedges.)
Remove to wire rack to cool for 5-10 minutes before serving. If you made wedges, use a knife or spatula to gently separate them after cooling.
Store in a tightly sealed container at room temperature for up to three days.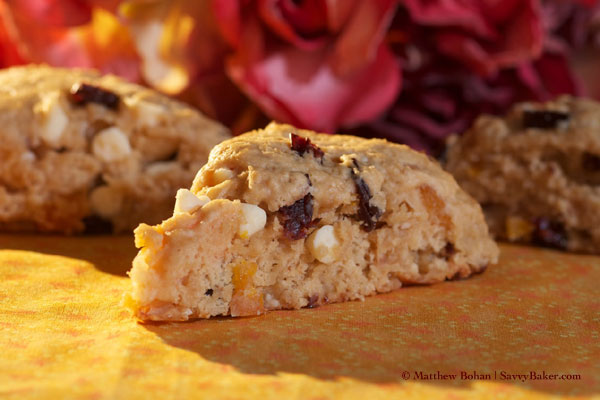 © Liesl K. Bohan  |  SavvyBaker.com