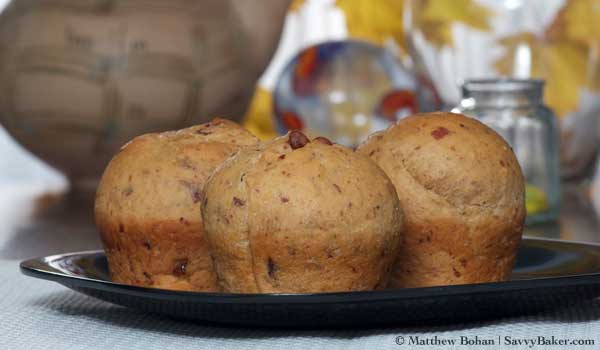 I'm still having fun experimenting with cinnamon chip and sweet potato combinations. Here's the latest recipe to receive a stamp of approval from kids and adults alike. Look closely at the photos, and you might get a sense of how the cinnamon chips are swirled between layers of tender sweet potato oat rolls. Best served warm, these taste as heavenly as they smell.
Happy Halloween!
Sweet Potato Cinnamon Oat Rolls
Yield: 12 rolls
1 cup cooked sweet potatoes, drained and mashed
1 cup dried cranberries or raisins
3/4 cup evaporated nonfat milk
1 egg
3 tablespoons unsalted butter
3 tablespoons lightly packed brown sugar
1 cup rolled oats (not instant)
2/3 cup almond meal*
1 teaspoon salt
3 cups bread flour
1 1/2 teaspoons rapid or instant yeast
1/2 cup cinnamon baking chips
* I make my own almond meal by processing raw or toasted almonds with a coffee grinder and then sifting the meal to remove the larger pieces.
Add all ingredients except cinnamon baking chips to bread machine in manufacturer's recommended order and run dough cycle. (These are listed in the ideal order for our Breadman machines.)
While the dough is rising, mist a 12-cup muffin tin with cooking spray.
Upon completion of dough cycle, use lightly floured hands to divide dough into two equal pieces, returning one piece to the bread machine pan and covering it with a tea towel.
Place the other piece on a Silpat mat or lightly floured surface.
Stretch and press dough into a rectangle of about 9 x 13 inches.
Spread half of the cinnamon chips over the flattened dough.
Starting on one of the 13-inch edges, roll the dough into a tube and seal the long seam by pinching the dough together upon completion.
With kitchen shears or a sharp knife, cut the tube into 6 equal pieces and place each—with an open (swirl) side down—into a cup of the muffin tin. Pinch the tops closed (optional).
Using the remaining dough from the bread machine pan, repeat steps 4-8.
Cover muffin tin with a tea towel and allow dough to rise for 45 minutes. (Preheat oven to 350° F near the end of this time frame.)
Remove towel and bake for 18-20 minutes, until golden.
Remove pan to wire rack to cool for a few minutes before serving.
Store in a tightly sealed container at room temperature for up to three days.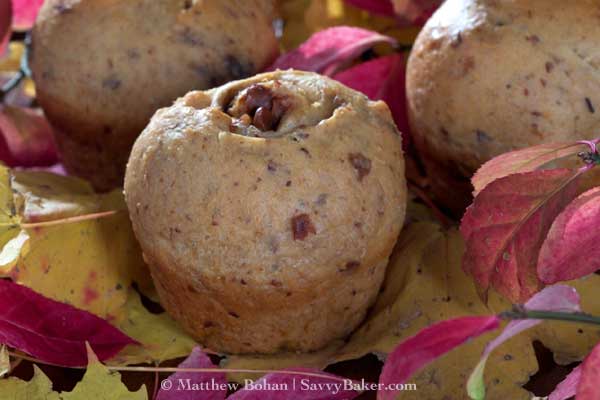 © Liesl K. Bohan  |  SavvyBaker.com