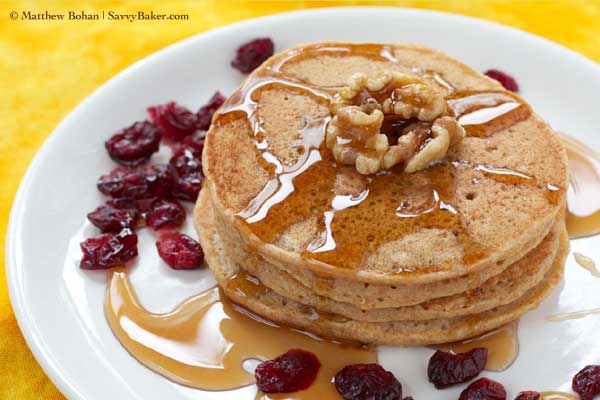 I love it when our kids have already downed a serving of whole grains and vegetables by the time breakfast is over. Just one ounce of sweet potato contains a gram of protein and more than 100% of the DV for Vitamin A. It's also a good source of vitamin C and dietary fiber. As a parent it's fun to deliver such a nutritional powerhouse via something they adore!
Note: You can use canned "yams" for this recipe. Just drain off any syrup first.
Sweet Potato Pancakes
Makes 18-20 (4-inch) pancakes
3/4 cup whole wheat flour
3/4 cup all-purpose flour
1 1/2 teaspoons baking powder
1/2 teaspoon cinnamon
1 3/4 cups nonfat (skim) milk
1 cup cooked, peeled, coarsely chopped sweet potatoes
2 large eggs
2 tablespoons brown sugar
1 teaspoon vanilla extract
Walnuts, dried cranberries and maple syrup (optional)
Whisk together first four ingredients (whole wheat flour through salt) in a medium bowl.
Combine remaining five ingredients (milk through vanilla extract) in a blender and puree.
Once griddle or skillet is lightly buttered and preheated to medium (about 310° F), pour wet ingredients into dry and stir together using as few strokes as possible, mixing just until combined.
Using about 1/4 cup per pancake, scoop batter onto griddle or skillet.
Bake each pancake until set and bubbled through, about 2 1/2 minutes. Using a thin spatula, flip once and bake until golden, about 1 1/2 minutes.
Serve immediately with maple syrup, dried cranberries and walnuts or your favorite pancake topping.
Store leftovers in the refrigerator and warm them for breakfast the next day.
* If you want to make the whole batch before serving any, keep the finished pancakes on a baking sheet in a warm oven (200° F) until time to serve.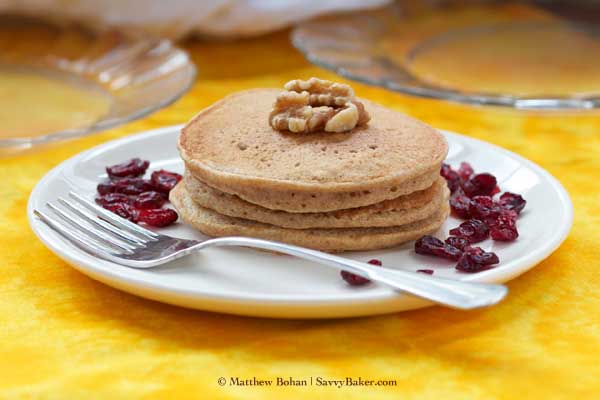 © Liesl K. Bohan  |  SavvyBaker.com