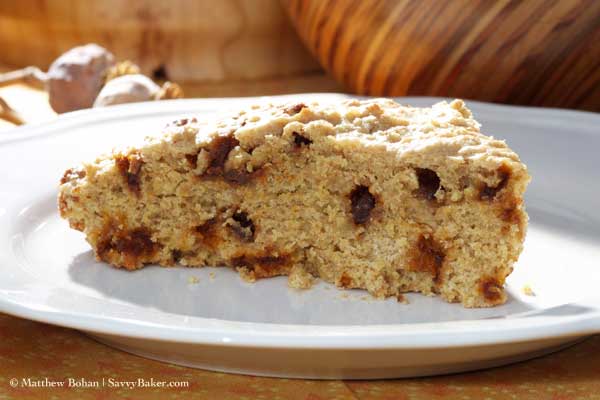 The leaves are beginning to turn here in Michigan, so there's no more denying that fall is here. It's time to embrace it and all of the gorgeous colors—and flavors—that go along with it, like sweet potatoes and cinnamon!
This recipe provides yet another opportunity to feed young ones (and yourself) some veggies at breakfast or snack time. As mentioned in the post for Sweet Potato Pancakes, this particular tuber provides a gram of protein and more than 100% of the DV for Vitamin A—per ounce! It's also a good source of vitamin C and dietary fiber.
If you're counting calories or avoiding processed foods, the down side of these scones is the added cinnamon chips, but they are really good. I bought them to use in a different recipe but decided to "borrow" just a few to see how they would work with sweet potatoes, and—voila!—an exceptional scone flavor combo was born. Forget the other recipe; now I want to use the rest of the bag to make more scones!
Seriously, these are rich, moist and sweeter than a typical scone. Even our youngest wholeheartedly endorses them. When I asked if he liked them, he said no: "I don't like them. I love them!" So there you have it.
Note: You can use canned "yams" for this recipe. Just drain off any syrup first. (See A Sweeter Sweet Potato for an interesting article on sweet potato and yam labeling in the U.S.)
Sweet Potato Cinnamon Scones
Makes 8 scones
1 1/2 cups 50/50 flour mix*
6 tablespoons chilled, unsalted butter
1 teaspoon baking powder
1/2 teaspoon salt
2 large eggs
1/2 cup cooked, peeled, coarsely chopped sweet potatoes (mashed or pressed into the measuring cup)
1/2 cup packed light brown sugar
1/4 cup nonfat (skim) milk
1 cup rolled oats (not instant)
2/3 cup cinnamon baking chips
* A 50/50 all-purpose/whole wheat flour combo is available in stores, but I mix my own for about half the price. If you don't have a mix on hand, just use 3/4 cup of all-purpose flour and 3/4 cup of whole wheat flour for this recipe.
Preheat oven to 350° F and mist a 10-inch quiche dish or a 9-inch pie plate with cooking spray.
Put first four ingredients (flour through salt) in a food processor and pulse until butter is fully incorporated. If you don't have a food processor, whisk dry ingredients together and then cut in butter using fingers, knives or a pastry blender.
Put eggs, sweet potatoes, brown sugar and milk in a blender and purée for about 15 seconds. Add oats and purée for another 30 seconds.
Add wet ingredients to dry and stir just until moistened.
Fold in cinnamon chips. Dough will be moist, similar to muffin batter.
Transfer dough to prepared dish or plate and spread out evenly.
Using a knife, "score" dough into 8 wedges, cleaning the knife as needed.
Bake for 25-30 minutes if using a 10-inch dish or 28-33 minutes if using a 9-inch plate—until edges are golden and a toothpick inserted into the center comes out clean.
Cool in dish on wire rack for 5-10 minutes before slicing.
Serve warm or at room temperature.
Store in a tightly sealed container at room temperature for up to two days.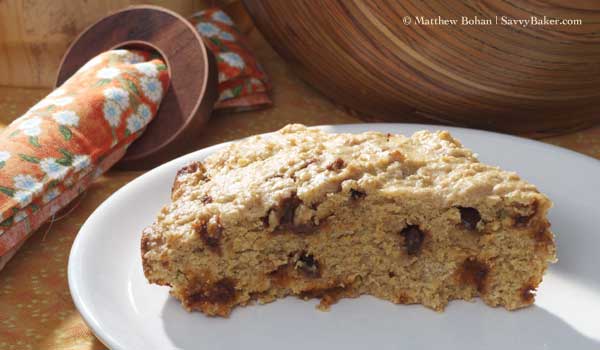 © Liesl K. Bohan  |  SavvyBaker.com