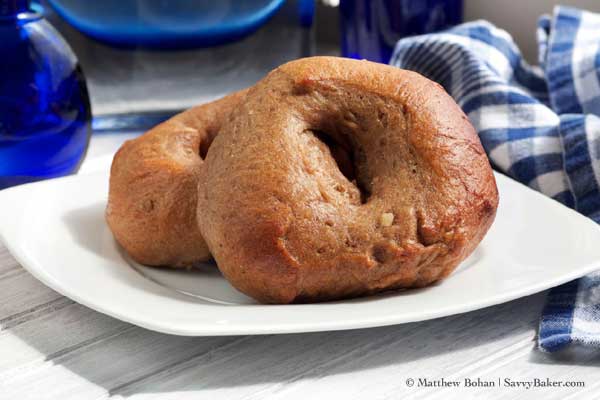 Ever since posting a Cinnamon Raisin Bagel recipe this summer, I've wanted to try something more exotic. While it's not uncommon to see peanut butter and banana paired together, you're not going to find this bagel flavor combo at a typical supermarket.
Though I chose to go with walnuts as the add in for these "savvy" bagels, Matt and I agree that we should experiment with peanut butter chips and/or mini chocolate chips as a less-savvy-but-sweeter alternative next time. These are excellent sliced, toasted and topped with butter or peanut butter, but they're not going to appeal to your sweet tooth unless you use Nutella or a sweetened cream cheese instead. (Hmmm… those options hadn't occurred to me until writing this. I know what I'm having for breakfast tomorrow!)
Also, one reader is hoping to replicate a peanut butter banana bagel she once had that was adorned with a "delicious" streusel topping. Any ideas on how to achieve that without going overboard on the sugar or butter?
Peanut Butter Banana Bagels
Makes 12-16 bagels (2 pounds)
1 cup mashed bananas
3/4 cup creamy peanut butter
1/3 cup nonfat (skim) milk
3 tablespoons honey
1 1/2 teaspoons salt
2 1/2 cups bread flour
1 1/2 cups whole wheat flour
2 1/2 teaspoons rapid or instant yeast
3/4 cup walnuts, crushed or chopped
2 tablespoons molasses (for the water)
Add all ingredients except walnuts and "water" molasses to bread machine in the manufacturer's recommended order. (These are listed in the order best suited to our machine and instant yeast.)
Run the dough cycle, adding walnuts at the add-in beep—if your machine has one—or about 5 minutes before the end of the kneading phase.
Lightly dust a work surface or Silpat mat with flour. Upon completion of dough cycle, turn dough out onto prepared surface or mat.
With lightly floured hands, divide dough into 12-16 equal balls.
Working one at a time, stick your thumb through each dough ball and rotate dough until the hole reaches desired width. Keep in mind that the hole will shrink when the bagel rises.
Cover and allow to rise for 30 minutes or until doubled in size.
While dough is rising, add 2 tablespoons of molasses to a large, wide pot filled with water (about two-thirds full) and bring to a boil.
Preheat oven to 400° F and cover a large baking sheet with a Silpat mat or a light coat of cooking spray.
After dough has risen, carefully drop bagels into boiling water in sets of two or three. Without allowing them to touch, boil for 30 seconds on each side. Do not leave them in too long. Using a slotted spoon, transfer bagels to a wire rack or floured tea towel to drain, and then boil the next set.
Once dry, place bagels on prepared baking sheet and bake for 20-25 minutes, until tops are golden.
Allow to cool before slicing.
Store in a tightly sealed container at room temperature for 2-3 days.
© 2011 Liesl K. Bohan  |  SavvyBaker.com