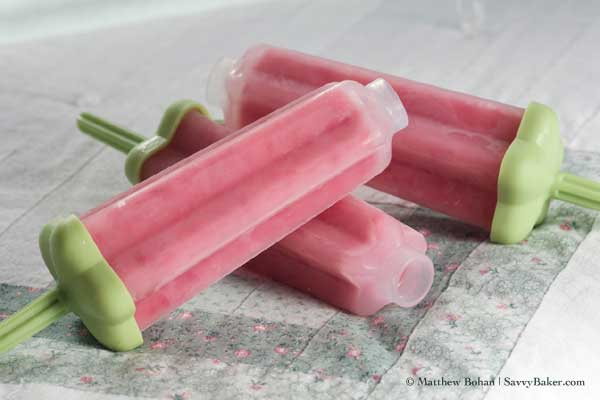 Given the recent bout of tropical weather here in Michigan, it seemed appropriate to play around with a few frozen pop recipes. Here are the results of round one. They're not a hit with the kids, who don't seem to like anything with frozen strawberries. (What's up with that? Who doesn't like strawberry pops?!) Matt, however, has been raving about them. He says they're better than any store-bought brand, and he's eaten enough to prove it.
Our daughter is now lobbying for a chocolate-peanut butter variety, so watch for those in the near future. In the meanwhile, check out Paletas: Authentic Recipes for Mexican Ice Pops, Shaved Ice & Aguas Frescas
by Fany Gerson for some gorgeous photos, tantalizing recipes and fun flavor combinations. (Her strawberry paletas look great. They have a hint of lemon instead of banana—and no yogurt.)
Strawberry Banana Ice Pops
Makes 6 half-cup servings
2 cups fresh strawberries, washed, topped and sliced
1/3 cup sugar
2/3 cup nonfat or low fat vanilla yogurt (we like Dannon)
1 well-ripened medium banana, broken into pieces
6 ice pop molds or comparable substitute
Pour sugar over strawberries and allow to stand for 20-30 minutes.
Put sugar-strawberry mixture, yogurt and banana into a blender and puree until smooth, leaving a few small berry chunks if you want.
Pour into molds, ensuring that each one is filled completely. If there is excess, pour into muffin tins and use toothpicks or plastic straws (cut to size) for the holders.
Cover and freeze until solid, about 6 hours.
Variation: Use Greek yogurt to increase the amount of protein in these pops.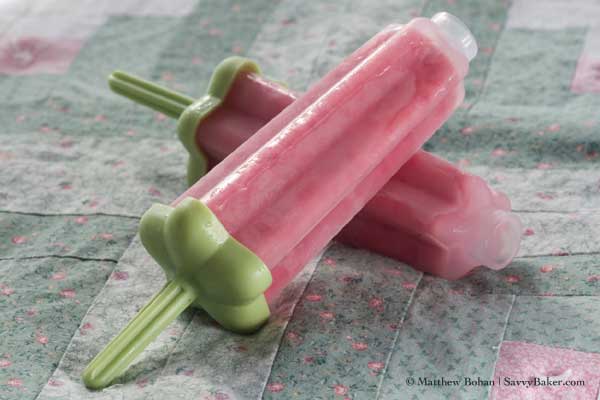 © Liesl K. Bohan  |  SavvyBaker.com