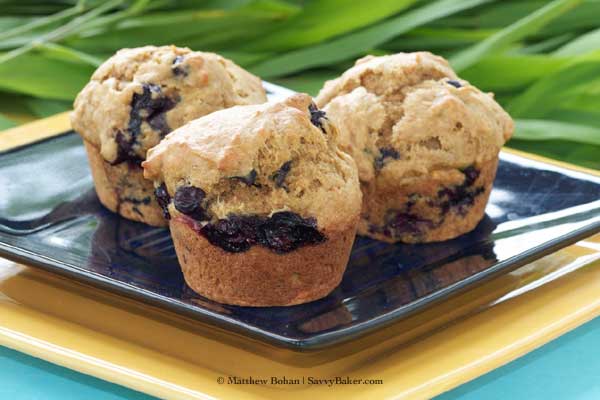 I've been using mangoes in smoothies a lot this summer. Seeing one on the fridge shelf next to some fresh blueberries made me think it was time to run some baking experiments, despite the heat wave we've had in Michigan this month. (Without central air, we tend to opt for oven-free options in July and August.)
These have the requisite reduced sugar, low fat, "make half your grains whole" combination I strive for in muffins. They also contain two foods that often top "Superfruit" lists for their nutritional and antioxidant properties: blueberries and mango. Their great taste and popularity also contribute to their ranking on such lists. Whilst absent from the title, a banana also appears in these breakfast treats, contributing just enough sweetness with the other two fruits to keep the added sugar to a minimum.
I typically don't share recipes unless we agree that they rate at least a 9 out of 10. Although these muffins are worthy of the "nutritious and delicious" tagline, I think they need a little more oomph, and I intend to experiment further. In the meanwhile, my family insists that they are ready to post as is, so here you go!
Blueberry Mango Muffins
Makes 12 muffins
3 cups 50/50 flour mix*
2 teaspoons baking powder
1 teaspoon baking soda
1/2 teaspoon salt
1/2 teaspoon ground cinnamon
1 cup peeled, diced mango (about 1 large mango)
1 well-ripened medium banana
1/2 cup packed light brown sugar
2 large eggs
1/2 cup nonfat (skim) milk
1/4 cup canola oil
1 teaspoon vanilla extract
1 1/4 cups fresh, rinsed blueberries
* You can buy this off the shelf, but I use a less expensive homemade mix of all-purpose and whole wheat flour. If you don't have a mix, use 1 1/2 cups each of whole wheat flour and all-purpose flour for this recipe.
Preheat oven to 375° F and mist a 12-cup muffin tin with cooking spray.
Whisk together first five ingredients (flour mix through cinnamon) in a large bowl.
Place the next seven ingredients (mango through vanilla) in a blender and puree until smooth.
Once the oven has preheated, add the wet ingredients all at once to the dry ingredients, stirring just until moistened.
Fold in blueberries.
Divide batter evenly among prepared cups.
Bake for 18-22 minutes, until a toothpick inserted into a muffin's center comes out clean.
Cool muffins in tin on a wire rack for a few minutes before removing directly to rack to cool further.
Store in a tightly sealed container at room temperature for a day or two. Because of their high moisture content, refrigerate any leftovers after that.
© Liesl K. Bohan  |  SavvyBaker.com