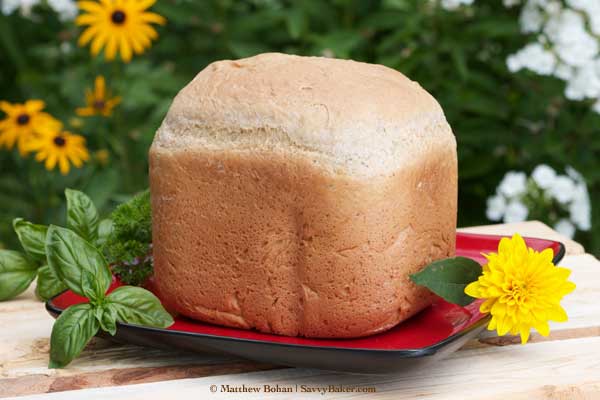 As you may have noticed, we don't bake with garlic or onions. (I know. I know. We're weird. But trust me, in our case it's for the best.) I created this fresh, aromatic cheese bread while experimenting with substitutes for the onion called for in the original recipe. Now we're hooked on the Italian herb duo in this loaf. Amazing as it is topped with broiled cheddar cheese now, we can't wait to see what it's like when we can add a few thick slices of garden-grown tomatoes in a week or two.
As usual, I also played around with different whole grains. With a cup of rolled oats, this was an excellent toasting bread—on day one. Alas, the slices disintegrated on day two. Using whole wheat flour instead produces a sturdier loaf that holds up to toasting while remaining light and airy overall.
Be sure that your bread machine has a Super Rapid, Express Bake or Rapid Bake option before you try this loaf. Like our Golden Potato Bread, our machine finishes this in just 80 minutes, which is fantastic if you need to have something ready in time for lunch, dinner or guests in two hours!
Rapido! Speedy Italian Bread
Makes one 2-pound loaf
1 1/3 cups + 1 tablespoon warm water
2 tablespoons sugar
1 teaspoon salt
1/2 teaspoon dried basil
1/2 teaspoon dried oregano
3/4 cup shredded extra sharp cheddar cheese
1 cup whole wheat flour
3 cups bread flour
4 1/2 teaspoons rapid or instant yeast
Add all ingredients to bread machine in the manufacturer's recommended order.* Use the Super Rapid, Express Bake or similar setting for a 2-pound loaf.
Once baked, cool for 20-30 minutes before slicing.
Store in a tightly sealed container at room temperature for 2-3 days.
* This list is in optimized order for our machine.
© Liesl K. Bohan  |  SavvyBaker.com