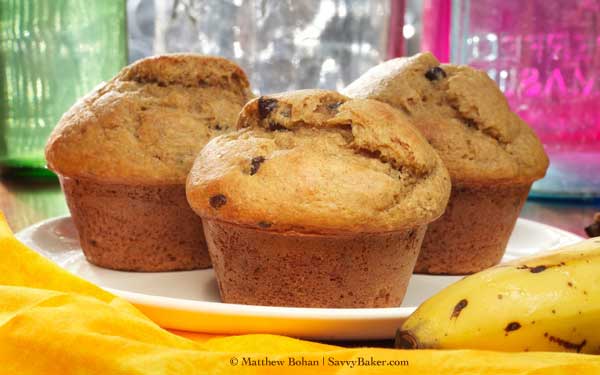 I've tried combining peanut butter, banana and cocoa in tea breads several times but haven't had any luck so far. Using any two of these ingredients together typically makes for a winning combination, but for some strange reason, using all three at once just doesn't taste right. I still haven't unraveled that mystery, but for now I'm just grateful that using chocolate chips instead of cocoa works beautifully.
These have just the right hint of flavor from the peanut butter, moisture and sweetness from the bananas, and chocolate from the chips to create a moist, flavorful and nutritious muffin. They have already proven to been a hit with kids—and adults—of all ages.
To make these muffins more appropriate for breakfast, opt for dried cranberries instead of chocolate chips—both are delicious with the bananas and peanut butter. If you want to dress these up for a birthday party or other special occasion, convert them to cupcakes by applying chocolate or peanut butter frosting.
Peanut Butter Banana Muffins
Inspired by Gloria Ambrosia's The Complete Muffin Cookbook: The Ultimate Guide to Making Great Muffins
Makes 12 muffins
2 1/2 cups 50/50 flour mix*
1 1/2 teaspoons baking powder
1 teaspoon baking soda
1/4 teaspoon salt
3 medium well-ripened bananas
3/4 cup nonfat milk
1/2 cup creamy natural peanut butter, room temperature
1/2 cup packed light brown sugar
2 large eggs
1/4 cup canola oil
1 teaspoon vanilla extract
3/4 cup mini semisweet chocolate chips or 3/4 cup dried cranberries
* You can buy this off the shelf, but I use a less expensive homemade mix of all-purpose and whole wheat flour. If you don't have a mix, use 1 1/4 cups each of all-purpose and whole wheat flour for this recipe.
Preheat oven to 375° F and mist a 12-cup muffin tin with cooking spray.
Whisk together first four ingredients (flour mix through salt) in a large bowl.
Place the next seven ingredients (bananas through vanilla) in a blender and puree until smooth.
Once the oven has preheated, add the wet ingredients all at once to the dry ingredients, stirring until almost moistened.
Fold in chocolate chips or dried cranberries and mix just until moistened.
Divide batter evenly among prepared cups. (Cups will be full.)
Bake for 18-22 minutes, until a toothpick inserted into a muffin's center comes out clean.
Cool muffins in tin on a wire rack for 5 minutes before removing directly to rack to cool further.
Store in a tightly sealed container at room temperature for up to two days.
© Liesl K. Bohan  |  SavvyBaker.com