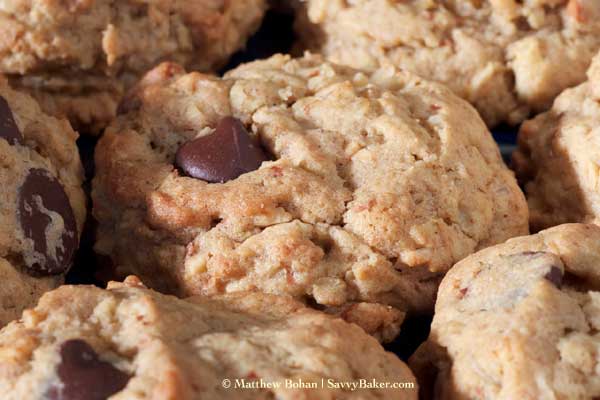 Crunchy peanut butter, puffed brown rice, rolled oats, whole wheat flour and peanuts add an adventurous twist—as well as extra fiber, protein, vitamins and minerals—to this version of chocolate chip cookies. These have more butter and sugar than my typical "savvy" cookies, but less than most traditional recipes.
Extra Peanutty Chocolate Chip Cookies
Makes 3 1/2 dozen cookies
1 stick margarine
1/2 stick (4 tablespoons) unsalted butter at room temperature
1/2 cup crunchy peanut butter (natural or "regular") at room temperature
1 cup packed brown sugar
1/2 cup sugar
2 eggs
2 teaspoons vanilla extract
2 1/4 cups 50/50 flour*
1 teaspoon baking soda
1/2 teaspoon salt
2 cups rolled oats, not instant
1 cup semisweet chocolate chips
1/2 cup raw or roasted unsalted peanuts, chopped
1/2 cup puffed brown rice
* Note: You can buy this off the shelf, but I use a less-expensive homemade mix of all-purpose and whole wheat flour. If you don't have a mix ready, use 1 1/4 cups of whole wheat flour and 1 cup all-purpose flour for this recipe.
Preheat oven to 350°F.
Cream margarine and butter in a stand mixer.
Add peanut butter, brown sugar and sugar. Beat until fluffy.
Add eggs and vanilla. Mix slowly at first, then scrape down sides and beat until fluffy.
Whisk together flour, baking soda and salt. Add to wet ingredients and blend until combined.
Add oats, chocolate chips, peanuts and puffed rice. Mix well, stirring slowly to prevent ingredients from spilling out of the bowl.
Drop dough one medium cookie scoop or packed tablespoon at a time onto an ungreased cookie sheet or one lined with a Silpat mat, leaving 2″ between cookies.
Bake 10-12 minutes, until set and slightly golden.
Cool for a couple of minutes on cookie sheet, then remove to a wire rack to cool completely.
For soft, chewy cookies (excluding the peanuts), store in a tightly-covered container. For firmer cookies, store in a loosely covered container, like a cookie jar.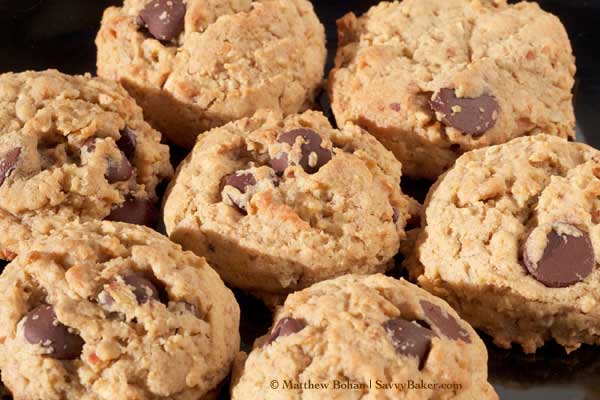 © Liesl K. Bohan  |  SavvyBaker.com