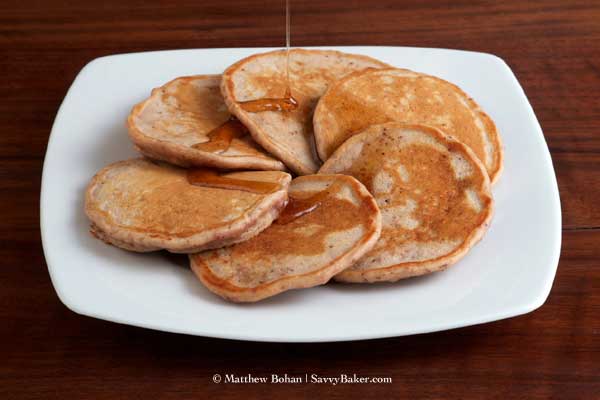 I often use a blender to speed up prep time for muffins, quick breads and pancakes. After finding a recipe for strawberry waffles, I thought I'd alter it to whip up some tasty pancakes. I added whole wheat flour and almond meal to boost the nutritional value and used a blender to reduce the time in the kitchen… theoretically.
Well, it seemed like a good idea, but this recipe represents at least the seventh (or eighth or ninth) attempt to get these pancakes right. So much for less time in the kitchen!
Apparently you're better off folding strawberries into the batter instead of blending them in. Why? Because the pancakes won't cook all the way through if you blend in a full cup or more of berries. Argh! Waffles may take longer, but a waffle iron cooks through the berry batter better. (Try saying that several times quickly!)
So why did I keep trying? First of all, because my kids won't eat pancakes containing discernable chunks of anything. Second, because the "Savvy Hubby" took a great photo of one of the early batches, and I didn't want his time, or the picture, to go to waste.
Success at last! It is with relief and gladness that I share this recipe. It finally works—the pancakes look good, taste great and are even good for you. Unfortunately, I'm so sick of experimenting with it that I may never make these again!
Let me know if you think the effort was worth it.
P.S. My newest challenge is that the "Savvy Family" likes these so much that this recipe doesn't make enough. Now I'm going to have to double it!
Strawberry Almond Pancakes
Makes about 1 dozen 4-inch pancakes
1/2 cup whole wheat flour
1/2 cup all-purpose flour
1/4 cup almond meal
1 teaspoon baking powder
1/8 teaspoon salt
1 cup nonfat milk
1/2 cup coarsely chopped fresh strawberries (about 2 large or 3-4 medium)
1 large egg
1 tablespoon canola oil
1 tablespoon honey
1/2 teaspoon vanilla extract
1/8 teaspoon almond extract
Whisk first five ingredients (whole wheat flour through salt) together in a medium bowl.
Combine remaining seven ingredients (milk through almond extract) in a blender and puree.
Once griddle or skillet is lightly buttered and preheated to medium (about 310° F), pour wet ingredients into dry and stir together using as few strokes as possible, mixing just until combined.
Using slightly less than 1/4 cup per pancake, pour batter onto griddle or skillet.
Bake each pancake until set and bubbled through, about 2 1/2 minutes. Using a thin spatula, flip once and bake until golden, about 1 1/2 minutes.
Serve immediately with your favorite syrup or vanilla yogurt and strawberries.*
Store leftovers in the refrigerator and warm them for breakfast the next day.
* If you want to make the whole batch before serving any, keep the finished pancakes on a baking sheet in a warm oven (200° F) until time to serve.
© Liesl K. Bohan  |  SavvyBaker.com