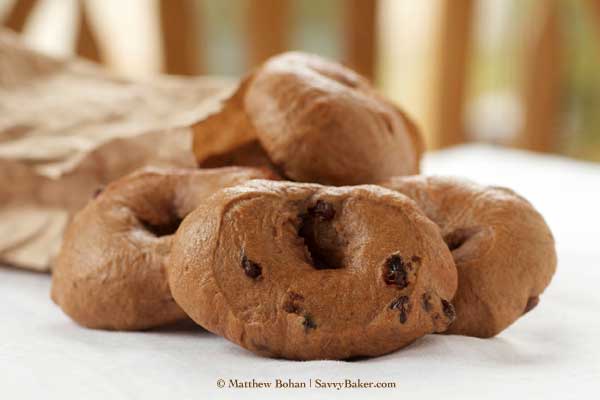 My favorite bagels are those with unique flavors, such as cherry, Asiago or peanut butter, which explains why we came up with the recipes we've chosen to run so far. For the sake of people who prefer more traditional fare, Matt wanted to create a homemade, whole grain version of the time-honored bagel flavor combo of cinnamon and raisin. Though some may prefer more "sophisticated" options, these are a huge hit with our kids.
Given our lack of air conditioning, we use our oven less in the summer. This recipe was actually created and tested in the spring, then saved for a sunny, summer day. If your kitchen is cooler than ours, or you don't mind the heat, go for it! Otherwise, bookmark this recipe and plan on assembling these this fall. Either way, have fun!
Cinnamon Raisin Bagels
Makes 12-16 bagels (2 pounds)
1 1/4 cups water
2 large eggs
3 tablespoons canola oil
3 tablespoons brown sugar
1 tablespoon cinnamon
1 1/2 teaspoons salt
3 cups bread flour
1 cup whole wheat flour
2 1/4 teaspoons rapid or instant yeast
1 cup raisins
2 tablespoons molasses (for the water)
Add all ingredients except raisins and "water" molasses to bread machine in the manufacturer's recommended order. (These are listed in the order best suited to our machine and instant yeast.)
Run the dough cycle, adding raisins at the add-in beep—if your machine has one—or about 5 minutes before the end of the kneading phase.
Lightly dust a work surface or Silpat mat with flour. Upon completion of dough cycle, turn dough out onto prepared surface or mat.
With lightly floured hands, divide dough into 12-16 equal balls.
Working one at a time, stick your thumb through each dough ball and rotate dough until the hole reaches desired width. Keep in mind that the hole will shrink when the bagel rises.
Cover and allow to rise for 30 minutes or until doubled in size.
While dough is rising, add 2 tablespoons of molasses to a large, wide pot filled with water (about two-thirds full) and bring to a boil.
Preheat oven to 400° F and cover a large baking sheet with a Silpat mat or a light coat of cooking spray.
After dough has risen, carefully drop bagels into boiling water in sets of two or three. Without allowing them to touch, boil for 30 seconds on each side. Do not leave them in too long. Using a slotted spoon, transfer bagels to a wire rack or floured tea towel to drain, and then boil the next set.
Once dry, place bagels on prepared baking sheet and bake for 20-25 minutes, until tops are golden.
Allow to cool before slicing.
Store in a tightly sealed container at room temperature for 2-3 days.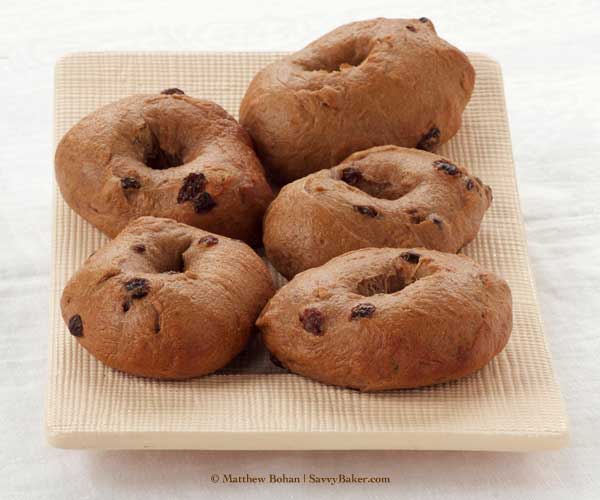 © 2011 Liesl K. Bohan  |  SavvyBaker.com