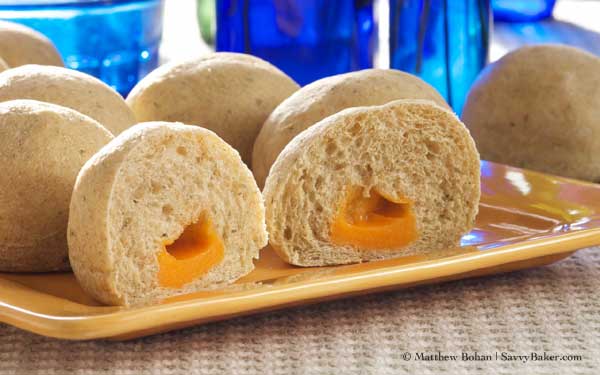 Yet another way to entice children—and adults—to eat their spinach… with some whole grains to boot!
Cheddar Spinach Rolls
Makes 12 rolls
1 cup tightly packed fresh spinach leaves, rinsed
1 cup water
2 tablespoons olive oil
1 teaspoon sugar
1/2 teaspoon salt
2 1/2 cups bread flour
2/3 cup whole wheat flour
2 teaspoons rapid or quick yeast
4 oz. cheddar cheese, cut into 12 cubes
Cover a large baking pan with a Silpat mat or a light coat of cooking spray.
Puree spinach and water in a blender or food processor.
Put spinach purée and all other ingredients except cheese in a 2-pound capacity bread machine in the manufacturer's recommended order. (These are listed in the order best suited to our machine.)
Run the dough cycle and then remove dough to the Silpat mat or a lightly floured surface.
With lightly oiled hands, divide the dough into 12 equal pieces. (Kitchen scissors work well for this.)
Working one at a time, stuff a cube of cheese into each piece of dough; seal it in; form dough into a ball; and place onto the prepared pan.
Cover and let rise in a warm, draft-free location for 30-45 minutes. Preheat oven to 350° F while the dough is rising.
Bake for 15 minutes.
Remove pan to wire rack to cool.
Note: If eaten fresh from the oven, the cheese is dangerously hot. Allow rolls to cool for at least 5 to 10 minutes before serving.
Store in a tightly sealed container at room temperature for 2-3 days.
P.S. Thanks for the great yellow plate, Cassie!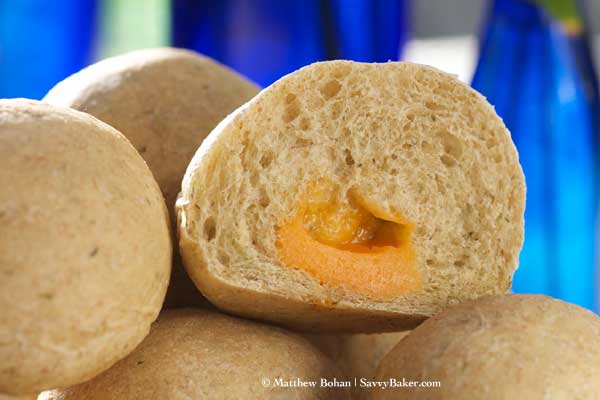 © Liesl K. Bohan  |  SavvyBaker.com