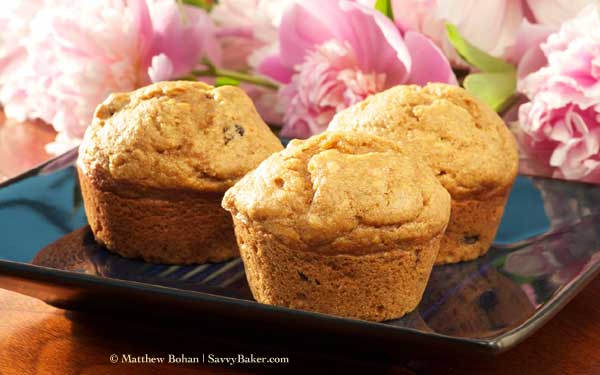 These muffins are incredibly moist, dense and tender. Packed with flavor, fruit, vegetables, fiber and nutrients, they are an excellent way to start the day, and thanks to the availability of fresh or frozen butternut squash in most large supermarkets, you can enjoy them any time of year. If you can't find squash—or don't feel like cooking it—just substitute canned pumpkin puree instead.
The muffins in the photo feature raisins because the "Savvy Husband" thinks I have a bit of an obsession with dried cranberries. Indeed, these muffins are excellent with raisins, but—as predicted—I prefer them with dried cranberries. (The obsession is actually with dried cherries, but who can afford baking with those all the time?!)
I think these would be even better with walnuts, but our son won't touch any quick bread variation with nuts, so I'll just recommend that option for others, untested. (Reduce dried fruit add-in to 1/3 cup and stir in 1/3 cup crushed walnuts at the same time.)
Butternut Breakfast Muffins
Makes 12 muffins
2 1/4 cups 50/50 flour mix*
1 teaspoon baking powder
1/2 teaspoon baking soda
1/2 teaspoon salt
1/2 teaspoon ground cinnamon
1 cup cooked, pureed butternut squash, Hubbard squash or pumpkin (puree, not pie filling)
2/3 cup packed light brown sugar
1 well-ripened medium banana
2 large eggs
1/3 cup unsweetened applesauce
1/3 cup canola oil
2 teaspoons vanilla extract
2/3 cup raisins or dried cranberries
* You can buy this off the shelf, but I use a less expensive homemade mix of all-purpose and whole wheat flour. If you don't have a mix, use 1 1/4 cups of whole wheat flour and 1 cup all-purpose flour for this recipe.
Preheat oven to 350° F and mist a 12-cup muffin tin with cooking spray.
Whisk together first five ingredients (flour mix through cinnamon) in a large bowl.
Place the next seven ingredients (squash/pumpkin through vanilla) in a blender and puree until smooth.
Once the oven has preheated, add the wet ingredients all at once to the dry ingredients, stirring until almost moistened.
Fold in raisins or dried cranberries.
Divide batter evenly among prepared cups.
Bake for 22-25 minutes, until a toothpick inserted into a muffin's center comes out clean.
Cool muffins in tin on a wire rack for a few minutes before removing directly to rack to cool further.
Store in a tightly sealed container at room temperature for a day or two. Because of their high moisture content, refrigerate any leftovers after that.
© Liesl K. Bohan  |  SavvyBaker.com