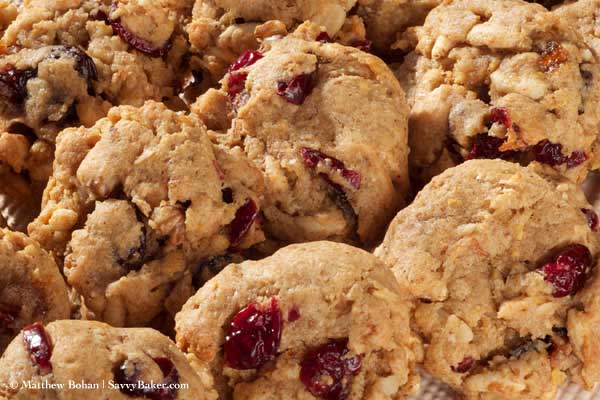 Imagine combining a chewy granola bar with a crispy marshmallow treat and trail mix, and you'll have a sense of what these cookies are like. Packed full of nuts, fruit, cereal and flavor, the name Granola Cookie suits them perfectly. We thought Matt had coined a new term when he came up with Granookie, but it turns out that someone else is already marketing a creation with that name. Oh well. We'll use a hyphen to distinguish our version.
Like my Multigrain Confetti Cookies, these tasty morsels boast less sugar and butter than similar cereal-based recipes, and they're loaded with nutritious whole grains, protein, vitamins, fiber and minerals. As a result, I serve these chocolate-free gran-ookies not just for dessert but also for mid-morning and mid-afternoon snacks.
Peanut Butter Gran-ookies
Makes about 3 1/2 dozen cookies
3/4 cup creamy or crunchy peanut butter
3/4 cup packed brown sugar
1/2 cup honey
1/2 stick (4 tablespoons) unsalted butter at room temperature
2 eggs
1 teaspoon vanilla
1 1/2 cups 50/50 flour*
1/4 cup almond meal
1/4 cup wheat germ
1/4 nonfat dried milk
2 tablespoons ground flaxseed (optional)
1 teaspoon baking soda
1/2 teaspoon baking powder
1/2 teaspoon salt
1 cup rolled oats, not instant
1 cup corn flakes cereal
1 cup puffed millet or puffed brown rice
1/2 cup walnuts, crushed
1/2 cup dried cranberries
1/2 cup raisins
1/2 cup dried cherries and/or dried apricots, chopped
* Note: You can buy this off the shelf, but I use a less-expensive homemade mix of all-purpose and whole wheat flour. If you don't have a mix ready, use 3/4 cup each of all-purpose and whole wheat flour for this recipe.
Preheat oven to 350°F.
Cream peanut butter, brown sugar, honey and butter in stand mixer.
Add eggs and vanilla. Beat until fluffy.
Whisk together flour, almond meal, wheat germ, dry milk, flaxseed (if using), baking soda, baking powder and salt. Add to wet ingredients and blend until combined.
Add oats, corn flakes, puffed millet (or rice), walnuts, dried cranberries, raisins and remaining dried fruit. Mix well, stirring slowly to prevent ingredients from flying out of the bowl. Dough will be stiff.
Drop dough one packed tablespoon at a time onto an ungreased cookie sheet or one lined with a Silpat mat, leaving 2″ between cookies. Press to flatten slightly.
Bake 9-10 minutes, until set and slightly golden.
Cool for a couple of minutes on cookie sheet, then remove to a wire rack to cool completely.
Store in a tightly-covered container at room temperature for up to three days.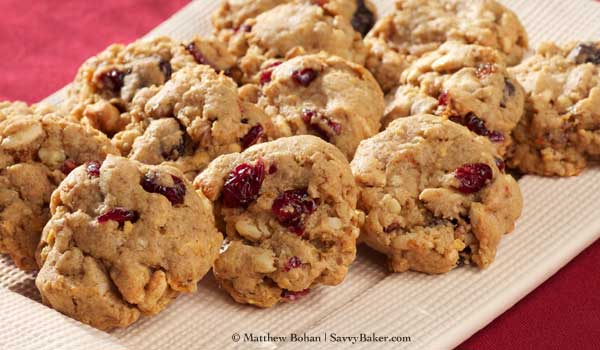 © Liesl K. Bohan  |  SavvyBaker.com