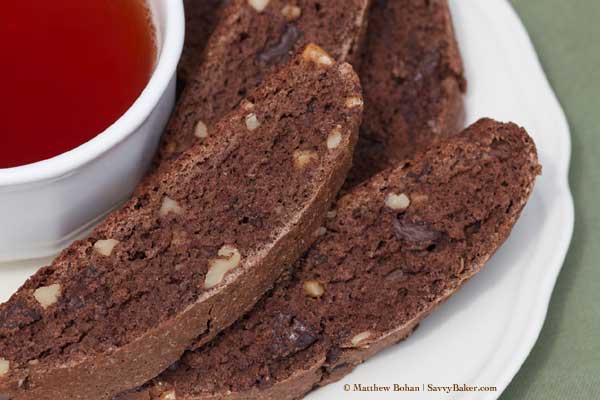 Given how much I like chocolate and walnuts together, it's somewhat surprising that I haven't yet shared a biscotti recipe featuring this classic brownie combination. When I noticed the omission last week, I started experimenting, and here are the results.
Though not chewy or gooey like their namesake, brown sugar makes these a little softer and more crumbly than my usual biscotti. Additionally, the cocoa and chocolate chips should suitably satisfy most chocolate cravings.
Will you be having yours with coffee, tea, milk or latte?
Chocolate Walnut Brownie Biscotti
Makes about 20 biscotti
2 1/2 cups 50/50 flour*
2/3 cup packed brown sugar
1/2 cup cocoa
3/4 teaspoon baking soda
1/4 teaspoon salt
3 large eggs
3 tablespoons nonfat milk
1 teaspoon vanilla extract
3/4 cup semisweet chocolate chips
1/2 cup walnut halves or pieces
* You can buy this off the shelf, but I use a less-expensive homemade mix of all-purpose and whole wheat flour. If you don't have a mix ready, use 1 1/4 cups each of all-purpose and whole wheat flour for this recipe.
Preheat oven to 350°F. Cover a large baking sheet with parchment paper or a Silpat mat.
Using a stand mixer, combine flour, brown sugar, cocoa, baking soda and salt on low speed.
Add eggs, milk and vanilla. Blend on low speed until well combined.
Add chocolate chips and walnuts, mixing until they are fully incorporated. Dough will be stiff.
Turn dough out onto Silpat mat or a work surface dusted with flour.
Using moistened (for Silpat only) or lightly floured hands, shape into a log about 16 inches long, 3 1/2 inches wide and 1 inch thick.
Bake on prepared pan for 30 minutes.
Remove from oven and cool for 10 minutes. Reduce oven temperature to 325° F.
Carefully transfer log to cutting board. Using a thin, serrated knife, slice into 20 3/4-inch slices.
Place slices upright on the mat or pan, spacing them about 3/4 of an inch apart.
Bake 20 minutes at 325° F.
Store in an airtight container at room temperature for 5-7 days. To extend storage time, freeze in an airtight container immediately after cooling.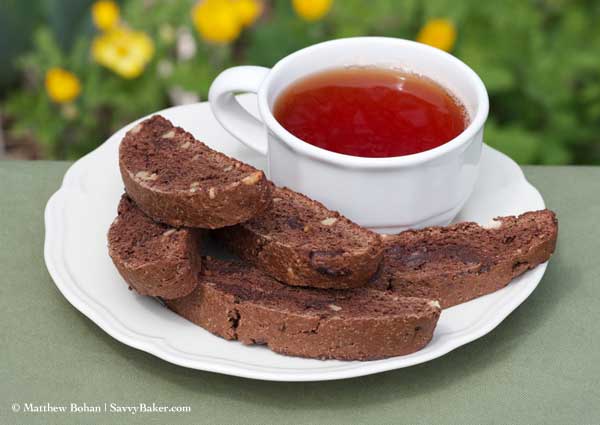 © Liesl K. Bohan  |  SavvyBaker.com