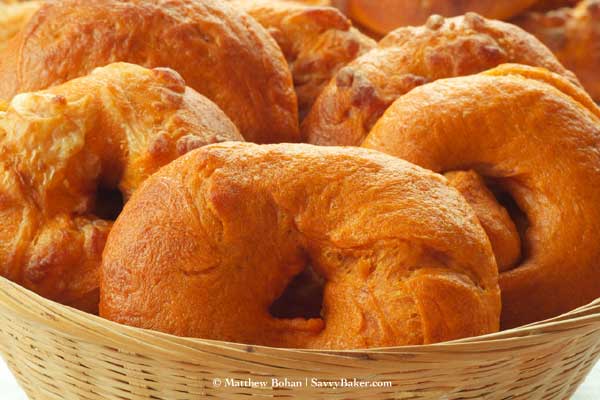 If you want a flavor combination like this one, homemade bagels are definitely worth the effort. Our cheese-stuffed Tender Tomato Rolls have been such a hit that Matt decided to try a similar pairing in bagels. Not surprisingly, they're excellent. (Tomatoes and cheese have complemented each other for ages. Why stop now?)
In addition to their fantastic flavor, these contain a nutritious dose of veggies, protein and whole grains that can be appreciated by all ages at breakfast, lunch, dinner and snack time.
Asiago Tomato Bagels
Makes 12-16 bagels (2 pounds)
3/4 cups water
1 (6 oz.) can tomato paste
2 large eggs
3 tablespoons canola oil
1 1/2 tablespoons sugar
1 1/2 teaspoons salt
1 cup grated Asiago cheese
1 cup whole wheat flour
3 cups bread flour
2 1/4 teaspoons rapid or instant yeast
2 tablespoons molasses (for the water)
Add all ingredients except "water" molasses to bread machine in the manufacturer's recommended order. (These are listed in the order best suited to our machine and instant yeast.)
Run the dough cycle, and remove dough upon completion.
Lightly dust a work surface or Silpat mat with flour. Turn dough out onto prepared surface or mat. With lightly floured hands, divide dough into 12-16 equal balls.
Working one at a time, stick your thumb through each dough ball and rotate dough until the hole reaches desired width. Keep in mind that the hole will shrink when the bagel rises.
Cover and allow to rise for 30 minutes or until doubled in size.
While dough is rising, add 2 tablespoons of molasses to a large, wide pot filled with water (about two-thirds full) and bring to a boil.
Preheat oven to 400° F and cover a large baking sheet with a Silpat mat or a light coat of cooking spray.
After dough has risen, carefully drop bagels into boiling water in sets of two or three. Without allowing them to touch, boil for 30 seconds on each side. Do not leave them in too long.
Using a slotted spoon, transfer bagels to a wire rack or floured tea towel to drain, and then boil the next set.
Once dry, place bagels on prepared baking sheet and bake for 20-25 minutes, until tops are golden.
Remove pan to wire rack to cool.
Store in a tightly sealed container at room temperature for 2-3 days.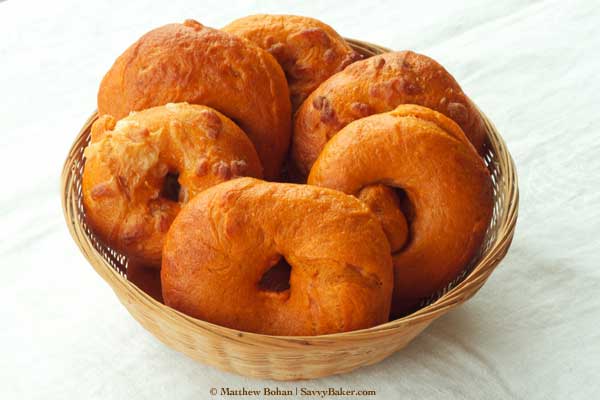 © Liesl K. Bohan  |  SavvyBaker.com