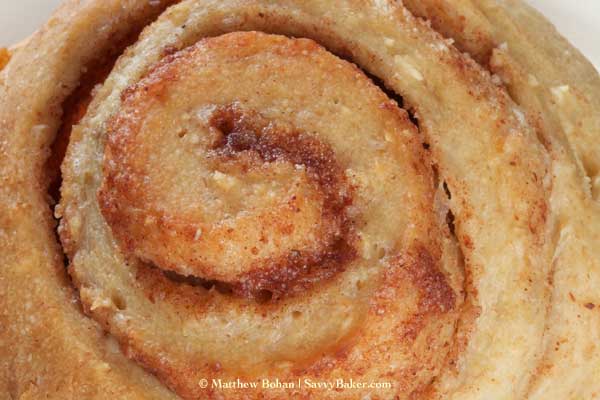 The first iteration of this dough was used for bagels, and it has since been formed into miniature cinnamon "snails" and raisin-stuffed loaves. My favorite variation—and that of our children—is this one. Loaded with apples, cinnamon and whole grains, these breakfast rolls are often requested at other times throughout the day.
Since a bread machine makes easy work of creating the dough, the real hands-on time for this recipe is spent stretching it out and adding toppings, then rolling, slicing and arranging the pieces on a baking sheet. 'Tis a labor of love, but when you see, smell and taste the results, it's well worth it!
Apple Cinnamon Swirls
Yield: 12 swirls
1 cup unsweetened applesauce
3/4 cup chopped or grated peeled apple
1 egg
2 tablespoons canola oil
2 tablespoons honey
1 teaspoon salt
1 cup rolled oats, not instant
1/2 cup whole wheat flour
2 1/2 cups bread flour
2 teaspoons rapid or instant yeast
Topping
1/3 cup sugar
1/3 cup almond meal*
1 1/2 teaspoons cinnamon
2 tablespoons unsalted butter
* I make my own almond meal by processing raw or toasted almonds with a coffee grinder and then sifting the results to remove the larger pieces.
Add first 1o ingredients (applesauce through yeast) to bread machine in manufacturer's recommended order and run dough cycle. (These are listed in the ideal order for our Breadman machines.)
While dough is rising, mix sugar, almond meal and cinnamon together in a large bowl.
Cover a large baking sheet with a Silpat mat or a mist of cooking spray.
Melt butter.
Upon completion of dough cycle, use lightly floured hands to divide dough into two equal pieces, returning one piece to the bread machine pan and covering it with a tea towel.
Place the other piece on a second Silpat mat or a lightly floured surface.
Stretch and press dough into a rectangle of about 9 x 13 inches.
Spread half of the butter over the flattened dough.
Sprinkle half of the cinnamon sugar mixture over the buttered dough, leaving the edges clean.
Starting on one of the 13-inch edges, roll the dough into a tube and seal the long seam by pinching the dough together upon completion.
With kitchen shears or a sharp knife, cut the tube into 6 equal pieces and place each—with an open (swirl) side down—on the prepared baking sheet, arranging carefully to fit all 12 swirls with as much space as possible in between.
Using the remaining dough from the bread machine pan, repeat steps 7-11.
Cover pan with a tea towel and allow dough to rise for 45 minutes.
Remove cover and bake at 350° F for about 25 minutes, until golden.
Remove pan to wire rack to cool for a few minutes before serving.
Store in a tightly sealed container at room temperature for up to three days.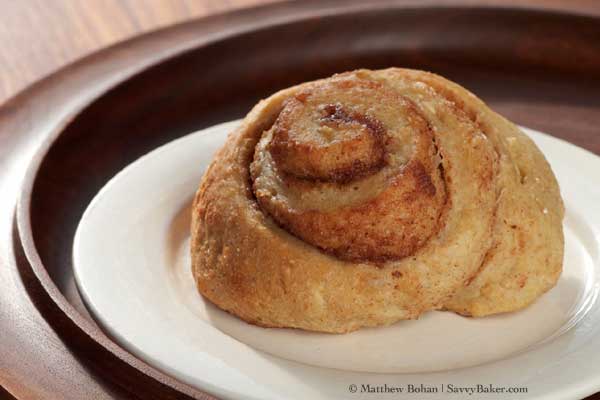 Note: Thanks to Dan Erickson for this amazing plate! We've used it for many photo shoots, and now that he has a website, we're happy to share a link to his other work here: Dan's Woodwork.
© Liesl K. Bohan  |  SavvyBaker.com