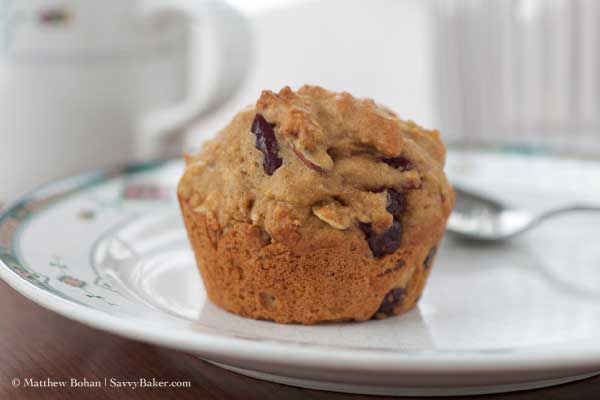 Chock full of nutrients, these rich-but-not-too-sweet treats are excellent at breakfast, lunch or snack time. Best of all, they're so flavorful that kids (and adults) won't even realize they're getting a good dose of fruits, veggies and whole grains with every one. In fact, one muffin has about 5 grams of protein, 15% DV fiber and 50% DV of vitamin A. Now that's something you can serve—and eat—without guilt!
I initially thought these would be most appropriate for the Thanksgiving holidays, when sweet potatoes tend to be abundant, but I've since reconsidered. Given that the ingredients are all available year round, why restrict these muffins to just one season?
Note: if you can find them, Red Garnet "yams" are great in this recipe. (See A Sweeter Sweet Potato for an interesting read on sweet potato and yam labeling in the U.S.)
Sweet Potato Muffins
Makes 12 muffins
2 cups 50/50 flour mix*
1 teaspoon baking powder
1/2 teaspoon baking soda
1/2 teaspoon salt
2/3 cup cooked, peeled and packed (into the measuring cup) sweet potatoes
or rinsed canned "yams"
2/3 cup packed light brown sugar
2 large eggs
1/3 cup unsweetened applesauce
1/3 cup canola oil
1 teaspoon vanilla extract
3/4 cup dried cranberries
1/2 cup sliced almonds (optional)
* You can buy this off the shelf, but I use a less expensive homemade mix of all-purpose and whole wheat flour. If you don't have a mix, use 1 cup each of all-purpose and whole wheat flour for this recipe.
Preheat oven to 350° F and mist a 12-cup muffin tin with cooking spray.
Whisk together first four ingredients (flour mix through salt) in a large bowl.
Place the next six ingredients (sweet potatoes through vanilla) in a blender and puree until smooth.
Once the oven has preheated, add the wet ingredients all at once to the dry ingredients, stirring just until moistened.
Fold in dried cranberries and sliced almonds (if using).
Divide batter evenly among prepared cups.
Bake for 20-22 minutes, until a toothpick inserted into a muffin's center comes out clean.
Cool muffins in tin on a wire rack for a few minutes before removing directly to rack to cool further.
Store in a tightly sealed container at room temperature for a day or two. Because they are so moist, leftover muffins should be refrigerated after that.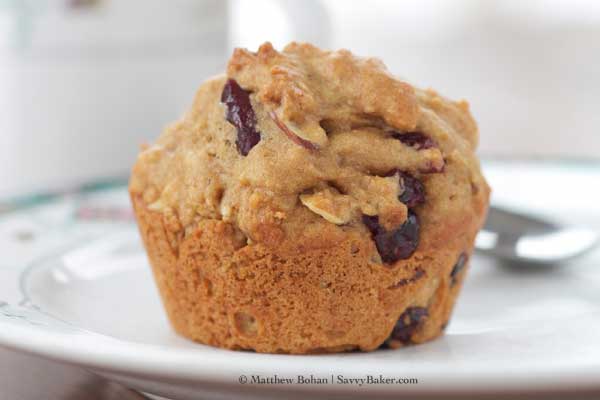 © Liesl K. Bohan  |  SavvyBaker.com