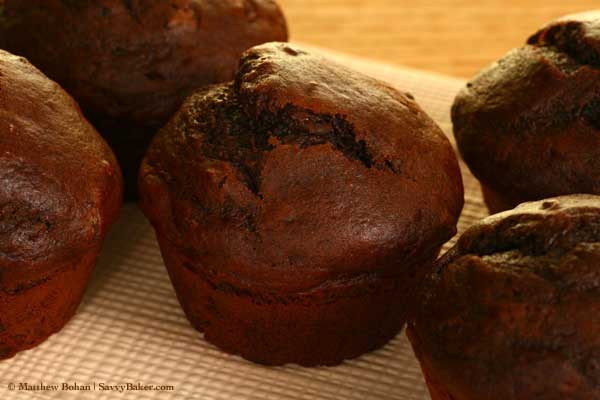 Here's another rendition of muffins featuring chocolate, coffee, whole grains and "disguised" fruit. This time I skipped the veggies and stuck with fruit that you're more likely to have on hand. Since bananas and applesauce are sweet already, this recipe doesn't require as much sugar as 12:01 Mocha Muffins, Chocolate Chip Pumpkin Muffins or Devilishly-Dark Chocolate Tea Bread, recipes which contain pumpkin or squash.
Because of their reduced-sugar content, these muffins rely on mini chocolate chips to deepen and enhance the flavor of each bite. Though not cupcake-style sweet, they provide an excellent way to sneak in a little nutrition—and chocolate—with your afternoon coffee, tea… or milk. Our children polish these off in no time!
By the way, these are named :02 because they are a sequel, not because of Timmy's rating system. I haven't asked him how these compare to :01, but I think the squash in the original muffins makes them more rich and moist—albeit slightly more complicated—than these. Speaking of children, you might want to opt for decaf if youngsters will be partaking.
12:02 Mocha Muffins
Makes 12 muffins
1 3/4 cups 50/50 flour mix*
1/3 cup cocoa
1 teaspoon baking powder
1/2 teaspoon baking soda
1/2 teaspoon salt
1 1/2 medium well-ripened bananas
1/2 cup packed light brown sugar
2 large eggs
1/3 cup unsweetened applesauce
1/3 cup nonfat milk or nonfat vanilla yogurt
1/3 cup canola oil
2 tablespoons instant coffee, regular or decaf
1 teaspoon vanilla extract
1 cup mini semisweet chocolate chips
* You can buy this off the shelf, but I use a less expensive homemade mix of all-purpose and whole wheat flour. If you don't have a mix, use 1 cup of all-purpose and 3/4 cup whole wheat flour for this recipe.
Preheat oven to 350° F and mist a 12-cup muffin tin with cooking spray.
Whisk together first five ingredients (flour mix through salt) in a large bowl.
Place the next eight ingredients (bananas through vanilla) in a blender and puree until thoroughly combined.
Once the oven has preheated, add the wet ingredients all at once to the dry ingredients, stirring just until moistened.
Fold in chocolate chips.
Divide batter evenly among prepared cups. (Cups will be almost full.)
Bake 18-22 minutes, until a toothpick inserted into a muffin's center comes out clean.
Cool muffins in tin on a wire rack for 5 minutes before removing directly to rack to cool further.
Store in a tightly sealed container at room temperature for up to two days. Refrigerate or freeze any leftovers after that.
© Liesl K. Bohan  |  SavvyBaker.com