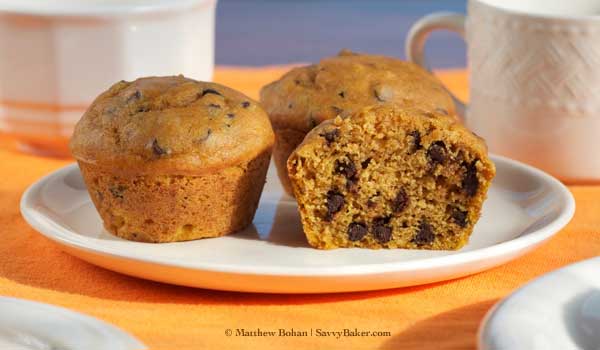 As a mom, I love delivering high-powered veggies and whole grains to my kids via such tempting packages. Pumpkin is an excellent source of fiber and vitamin A, which helps promote healthy vision, bones, teeth and skin. If you're going to serve a kid-friendly dessert, why not make something irresistible that also happens to be nutritious?
These muffins may not be low calorie, but based upon the pumpkin bread recipes I've seen over the years, they have a lot less sugar and oil than most of their peers. As an added bonus, almond meal and evaporated nonfat milk boost the protein content. (So do the eggs, but most muffins have those.)
Though you could use regular semisweet chocolate chips, I strongly recommend the mini ones for this recipe. They do a better job of distributing flavor throughout each muffin.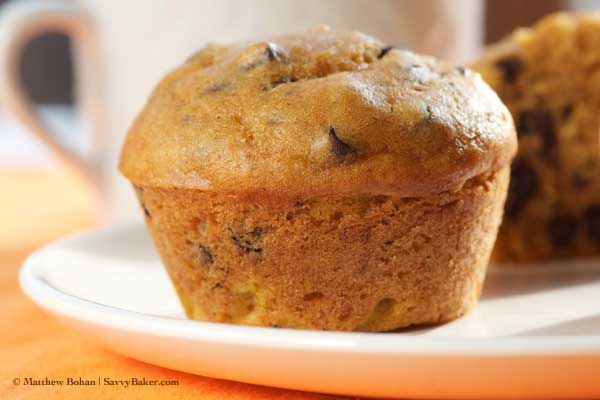 Chocolate Chip Pumpkin Muffins
Makes 12 muffins
1 1/2 cups 50/50 flour mix*
1 cup mini semisweet chocolate chips
1/2 cup almond meal
1 teaspoon baking powder
1/2 teaspoon baking soda
1/2 teaspoon salt
3/4 cup cooked, pureed pumpkin (not pie filling)
3/4 cup packed light brown sugar
1/2 cup evaporated nonfat milk
2 large eggs
1/3 cup canola oil
1 teaspoon vanilla extract
* You can buy this off the shelf, but I use a less expensive homemade mix of all-purpose and whole wheat flour. If you don't have a mix, use 3/4 cup each of all-purpose and whole wheat flour for this recipe.
Preheat oven to 350° F and mist a 12-cup muffin tin with cooking spray.
Whisk together first six ingredients (flour mix through salt) in a large bowl.
Place the next six ingredients (pumpkin through vanilla) in a blender and puree until smooth.
Once the oven has preheated, add the wet ingredients all at once to the dry ingredients, stirring just until moistened.
Divide batter evenly among prepared cups.
Bake for 25-30 minutes, until a toothpick inserted into a muffin's center comes out clean.
Cool muffins in tin on a wire rack for 5 minutes before removing directly to rack to cool further.
Store in a tightly sealed container at room temperature for up to two days.
© Liesl K. Bohan  |  SavvyBaker.com