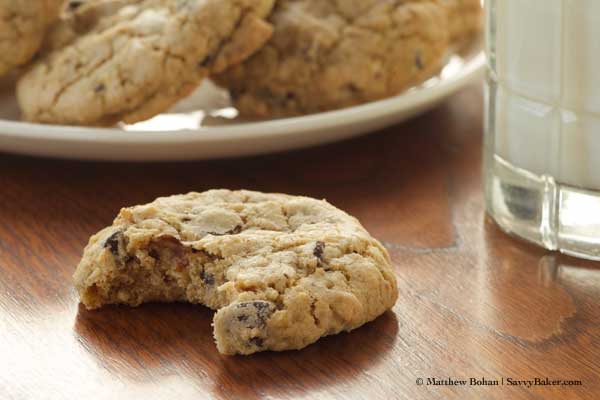 We're fortunate to have access to dried cherries in bulk here in Michigan, and we take advantage of that on a regular basis, using them in everything from oatmeal to turkey stuffing. Since dried cherries go so well with almonds and with chocolate, it makes sense to bring all three together in one cookie.
Despite a reduced sugar and butter content (compared to similar cookies), these are neither low calorie nor low fat. But they taste great! Since I try to eat—and serve—desserts like these in moderation, it's reassuring that each calorie-laden bite also contains vitamin- and nutrient-rich whole grains, nuts and fruit.
Note: I use both "regular" and mini chocolate chips in this recipe, enjoying full-sized chips in combination with the mini chips, which distribute flavor throughout each cookie. Any size or combo will work as long as you stick to 1 cup total.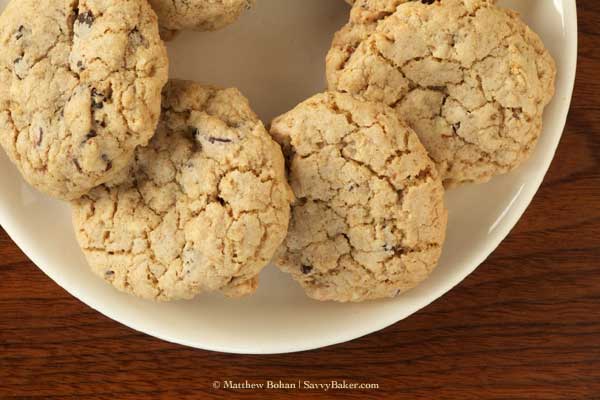 Cherry Almond Chocolate Chip Cookies
Makes about 3 dozen cookies
1 1/2 sticks (3/4 cup) unsalted butter, room temperature
1 1/2 cups packed light brown sugar
2 large eggs
1 teaspoon vanilla extract
1/4 teaspoon almond extract
2 1/2 cups 50/50 flour*
1 teaspoon baking soda
1/2 teaspoon salt
2 cups rolled oats, not instant
1/2 cup dried cherries
1/2 cup almonds, coarsely chopped
1/2 cup semisweet chocolate chips
1/2 cup mini semisweet chocolate chips
* Note: You can buy this off the shelf, but I use a less-expensive homemade mix of all-purpose and whole wheat flour. If you don't have a mix ready, use 1 1/4 cups each of all-purpose and whole wheat flour for this recipe.
Preheat oven to 350°F and cover baking sheet with parchment paper, Silpat mat or nothing at all.
In the bowl of a stand mixer, beat butter until fluffy.
Add brown sugar and then cream until fluffy.
Add eggs one at a time, beating mixture until well combined and then scraping down the sides of the bowl after each.
Add extracts and beat until creamy.
Whisk flour, soda and salt together in a medium bowl. Pour flour mixture into wet ingredients and beat at low speed until combined. Scrape down the sides of the bowl.
Stir last five ingredients (oats through mini chips) into batter, being careful not to let ingredients fly out of the bowl. Dough will be stiff.
Drop dough one level cookie scoop (medium) or one rounded tablespoon 2″ apart on prepared baking sheet.
Bake on center rack for 12-14 minutes, until set and slightly golden.
Remove baking sheet to wire rack to cool for a couple of minutes, and then transfer cookies to rack to cool completely.
Allow baking sheet to cool completely between batches.
Store in a tightly covered container at room temperature for up to three days.
© Liesl K. Bohan  |  SavvyBaker.com