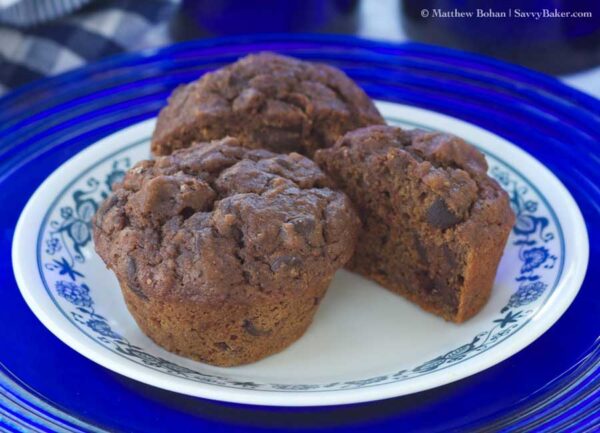 This recipe required some serious experimentation, but the end results were worth it. Similar to my Devilishly-Dark Chocolate Tea Bread, these muffins rely on winter squash and coffee to heighten the intensity of the cocoa and chocolate flavors. I understand why some would hesitate to use squash in something so close to a cupcake, but if Jamie Oliver recommends it, why not give it a whirl? His recipe for squash muffins calls for 14 ounces of squash, 3/4 cup oil and 2 1/4 cups of sugar (!) plus frosting. I'm sure they are excellent, but I can't bring myself to use that much sugar.
Thus began my experimentation. I wanted to find a different way to sweeten a chocolate version of his. Bananas worked in the tea bread mentioned above, but that wouldn't be particularly original. Sweet potatoes… now there's an original idea, but suffice it to say I wouldn't use those with chocolate and squash again. Ever. Fortunately, applesauce did the trick, and you can now whip up a batch of these without having to experiment any further—unless you want to find the perfect frosting to dress them up for a birthday celebration. With more than a tablespoon of chips per muffin, they don't really need it, but if frosting can help you pass these fruit and veggie muffins off as cupcakes at a child's party, go for it!
By the way, our six-year old's food rating system involves a thumbs up—pointing at 12 o'clock—to indicate full approval. He rated these muffins 12:01 to imply that they are even better than 12:00. He also noted that treats with a 12:02 rating, like my Peanut Butter Crunchies, are better yet, but he added that "It goes down after that—12:03 isn't as good."
Note: If you are baking these for children, you might want to use decaf. There's about 1 teaspoon of coffee per muffin, plus all of the chocolate from the chips and cocoa.
12:01 Mocha Muffins
Makes 12 muffins
1 3/4 cups 50/50 flour mix*
1/3 cup cocoa
2 teaspoons baking powder
1/2 teaspoon salt
1 cup cooked, peeled and packed butternut squash (or Hubbard or pumpkin puree)
3/4 cup packed light brown sugar
3 large eggs
1/2 cup unsweetened applesauce
1/3 cup canola oil
1/4 cup brewed coffee
2 teaspoons vanilla extract
1 cup semisweet chocolate chips, preferably mini
* You can buy this off the shelf, but I use a less expensive homemade mix of all-purpose and whole wheat flour. If you don't have a mix, use 1 cup of all-purpose and 3/4 cup whole wheat for this recipe.
Preheat oven to 350° F and mist a 12-cup muffin tin with cooking spray.
Whisk together first four ingredients (flour mix through salt) in a large bowl.
Place the next seven ingredients (squash through vanilla) in a blender and puree until thoroughly combined.
Once the oven has preheated, add the wet ingredients all at once to the dry ingredients, stirring just until moistened.
Fold in chocolate chips.
Divide batter evenly among prepared cups.
Bake 20-25 minutes, until a toothpick inserted into one muffin's center comes out clean.
Cool muffins in tin on a wire rack for 5 minutes before removing directly to rack to cool further.
Store in a tightly sealed container at room temperature for a day or two. Because they are so moist, these should be refrigerated after that.
© Liesl K. Bohan  |  SavvyBaker.com