This coffee cake presents a fantastic way to "sneak" vegetables, fruit, fiber and whole grains into your day. Though tempting for breakfast, I recommend saving it for dessert or a special treat because of its sugar content.
If eaten while warm, you can serve this like my Cherry Almond Pull Aparts, and it will yield 28-36 rolls, depending upon what you do in step 6.
Sweet Potato Coffee Cake
Yield: 12-16 slices (equal to a 2-pound loaf of bread)
1 cup cooked sweet potatoes, drained and mashed*
3/4 cup evaporated nonfat milk
3/4 cup dried cranberries or raisins
1 egg
3 tablespoons unsalted butter
3 tablespoons honey
1 cup whole wheat flour
2/3 cup almond meal
1 teaspoon salt
3 cups bread flour
1 1/2 teaspoons rapid or instant yeast
1/2 cup sugar
2 tablespoons wheat germ
1 teaspoon cinnamon
2 tablespoons unsalted butter
* Baked, peeled sweet potatoes are ideal, but canned will work as well.
Add first 11 ingredients (sweet potatoes through yeast) to bread machine in manufacturer's recommended order and run dough cycle. If using canned sweet potatoes, watch dough during the first few minutes. If it isn't forming into a ball, add milk or water 1 tablespoon at a time until it is. You shouldn't need more than 3 or 4 tablespoons, at most.
While dough is rising, mix sugar, wheat germ and cinnamon together in a large bowl.
Mist a 9- or 10-inch Bundt or tube cake pan with cooking spray.
Upon completion of dough cycle, remove dough to Silpat mat or lightly floured surface.
Melt butter and transfer to a small bowl.
Using lightly floured hands, divide dough into four equal pieces. Working with one piece at a time, use clean kitchen shears to snip each one into about 8 small pieces.
Place 4-5 pieces at a time in the sugar mixture and swirl bowl around until the pieces are lightly coated, then arrange in prepared pan. Continue until bottom of pan is covered with 12-16 pieces.
For the next round, dip pieces in melted butter first and then into sugar mixture before placing in pan.
Continue until all pieces have been sugared and buttered. If the butter runs out before all pieces are coated, use the sugar mixture alone.
Once all pieces are in the pan, sprinkle any remaining sugar mix over the dough.
Cover pan with a tea towel and allow dough to rise for 45 minutes.
Remove towel and bake at 350° F for 35 minutes, until golden.
Remove pan to wire rack to cool for a few minutes before inverting onto serving plate.
Serve sliced or as pull-apart rolls.
Store in a tightly sealed container at room temperature for up to two days.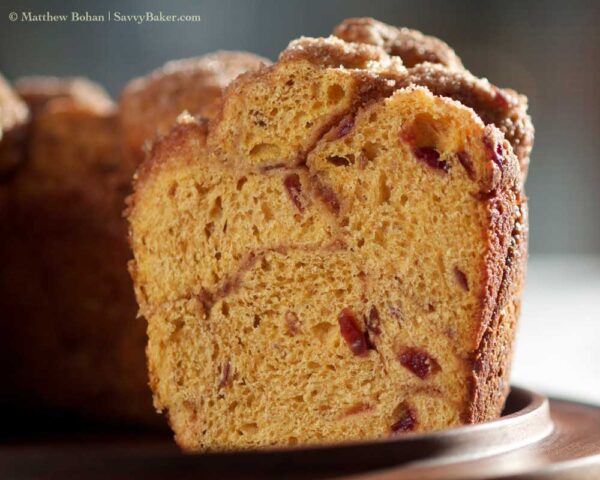 © Liesl K. Bohan  |  SavvyBaker.com