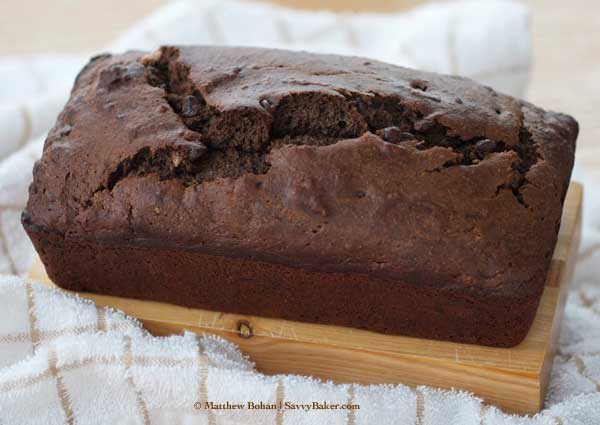 Though this looks like bread at first, it transforms into a decadent dessert once served. Its unusual ingredients boost moisture while providing a healthy dose of vitamins, minerals, fiber and antioxidants that you'd never expect from such an exotic-tasting treat. Give it a whirl, and you'll soon have friends and family asking for more.
Note: This bread is almost too delicate to serve warm. Though amazing while still fresh from the oven, it's much easier to slice once it has cooled completely.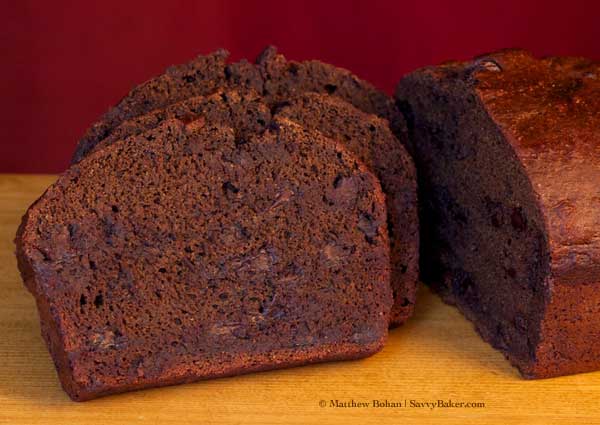 Devilishly-Dark Chocolate Tea Bread
Makes one loaf (12-16 slices)
2 cups 50/50 flour mix*
3/4 cup packed light brown sugar
1/3 cup cocoa
1 1/2 teaspoons baking powder
1 teaspoon baking soda
1/2 teaspoon salt
1 cup cooked, packed butternut squash (or Hubbard or pumpkin)
2 large or 2 1/2 medium well-ripened bananas, broken into pieces
2 large eggs
1/3 cup canola oil
2 tablespoons brewed coffee, room temperature
1/2 tablespoon vanilla extract
1 cup semisweet chocolate chips
* You can buy this off the shelf, but I use a less-expensive homemade mix of all-purpose and whole wheat flour. If you don't have a mix, substitute 1 cup of each for this recipe.
Preheat oven to 350° F and mist one 8 x 4-inch loaf pan with cooking spray.
Whisk together first six ingredients (flour through salt) in a large bowl.
Place the next six ingredients (squash through vanilla) in a blender and puree until thoroughly combined.
Add the wet ingredients all at once to the dry ingredients, stirring just until moistened.
Fold in chocolate chips.
Pour batter into prepared pan and distribute evenly.
Bake for 55-60 minutes, until a toothpick inserted into the center comes out clean.
Cool in pan on a wire rack for 10 minutes, then remove to rack to cool further.
Store in a tightly sealed container at room temperature for up to two days.
© Liesl K. Bohan  |  SavvyBaker.com