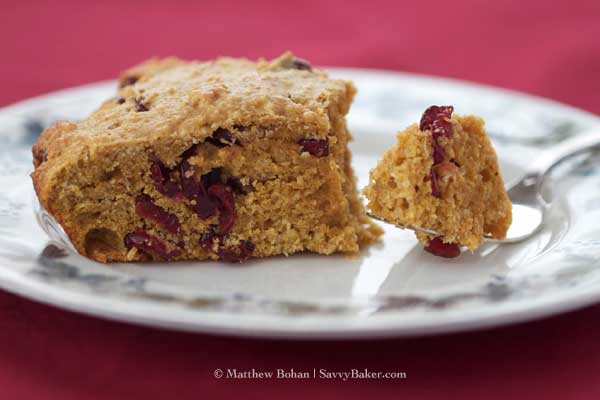 Though I'm referring to these as scones—indeed, they require that butter be cut into the dry ingredients like traditional scones—I must admit that they seem to be closely related to muffins. That's because they are a little more sweet and moist than what you might expect from conventional scones. In this case, the moisture primarily comes from a vitamin-packed vegetable and evaporated nonfat milk rather than a large dose of butter or cream.
Not only do these taste great and appeal to the elementary school set, but each scone also provides nutritional benefits from oats, whole wheat, fruit and squash. Just one ounce of cooked butternut squash boasts 62% of the Daily Value for Vitamin A. An excellent source of Vitamin C, potassium and manganese, butternut squash is also a good source of Vitamin E (alpha tocopherol), thiamin, niacin, vitamin B6, folate, calcium and magnesium.
Butternut squash, Hubbard squash and pumpkin are often used interchangeably in baked goods. This recipe is adapted from DeeDee Stovel's Pumpkin, a Super Food for All 12 Months of the Year.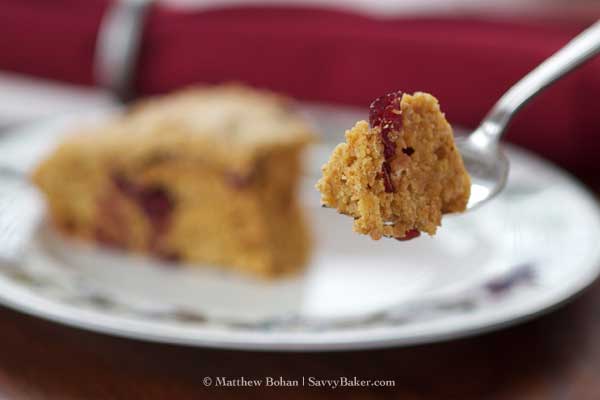 Cranberry Butternut Scones
1 1/2 cups 50/50 flour mix*
1 cup rolled oats (not instant)
1/2 cup packed light brown sugar
6 tablespoons chilled, unsalted butter
1 teaspoon baking powder
1/2 teaspoon cinnamon
1/2 teaspoon salt
2 large eggs
1/2 cup cooked, pureed butternut squash (or Hubbard or pumpkin)
1/4 cup evaporated nonfat milk
1 cup dried cranberries
* A 50/50 all-purpose/whole wheat flour combo is available in stores, but I mix my own for about half the price. If you don't have a mix on hand, just use 3/4 cup of all-purpose flour and 3/4 cup of whole wheat flour for this recipe.
Preheat oven to 350° F and mist a 9-inch pie plate with cooking spray.
Put first seven ingredients (flour through salt) in a food processor and pulse until butter is fully incorporated. If you don't have a food processor, whisk dry ingredients together and then cut in butter using fingers, knives or a pastry blender.
In a medium bowl, whisk together eggs, squash and evaporated milk.
Add wet ingredients to dry and stir just until moistened.
Fold in cranberries. Dough will be really moist, similar to muffin batter.
Transfer dough to pie plate and distribute evenly.
Using a knife, "score" dough into 8 wedges, cleaning the knife as needed.
Bake for 25-30 minutes, until edges are golden and a toothpick inserted into the center comes out clean.
Cool in dish on wire rack for 5-10 minutes before slicing.
Serve warm or at room temperature.
Store in a tightly sealed container at room temperature for up to two days.
Nutrition source: SelfNutritionData
© Liesl K. Bohan  |  SavvyBaker.com