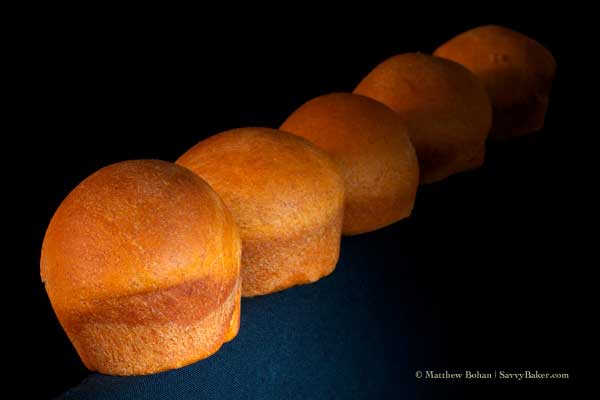 Matt created this recipe by combining my Easy Cheese Brioche with his Hearty Pizza Bread. Such experiments often require multiple tests, but this time he hit a home run on the first attempt, creating an incredibly delicate roll that is excellent on its own but even better stuffed with cheese.
With their tomato, cheese and whole wheat combination, not only do these rolls taste fantastic, but they provide nutrient-rich veggies, protein and whole grain goodness all in one scrumptious package. If you have a bread machine, you've got to try these!
Tender Tomato Rolls
Makes 12 rolls
1 6-oz. can unseasoned tomato paste
1/2 cup nonfat milk
2 large eggs
1/4 cup unsalted butter
2 tablespoons sugar
1 teaspoon salt
1 cup whole wheat flour
2 1/2 cups all-purpose flour
2 1/4 teaspoons rapid or quick yeast
4-6 oz. Muenster or cheddar cheese, cut into 12 cubes
Coat a 12-cup muffin tin with cooking spray.
Add all ingredients except cheese to 2-pound capacity bread machine in the manufacturer's recommended order. (These are listed in the order best suited to our machine and to instant yeast.)
Run the dough cycle and remove dough upon completion.
Using a little flour or olive oil on your hands and work surface, divide the dough into 12 equal pieces. (Kitchen scissors work well for this step.)
Working one at a time, stuff a cube of cheese into each piece of dough, forming the dough into balls and placing them into the prepared muffin cups, ensuring that the dough is sealed around the cheese.
Cover and let rise in a warm, draft-free location for 30-45 minutes. The longer these rise, the less likely they are to leak cheese. Preheat oven to 350° F while the dough is rising. Bake for 15-17 minutes.
Store in a tightly sealed container at room temperature for 2-3 days.
© Matthew Bohan & Liesl K. Bohan  |  SavvyBaker.com