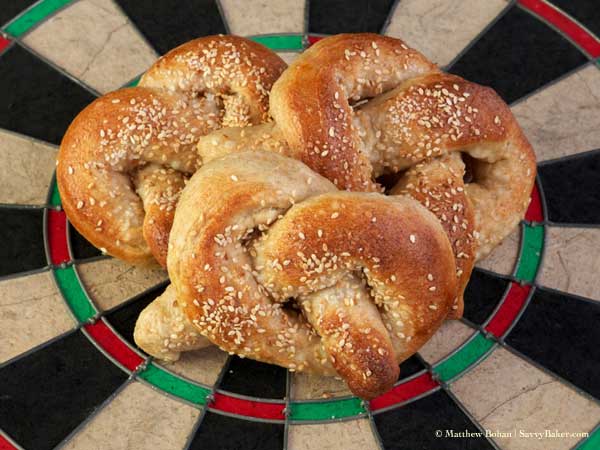 Most of the sourdough bagel recipes I've found online use metric measurements. Rather than experiment with one of those, Matt decided to create his own. In the end, he opted for pretzels instead of bagels, and we're glad he did. It's great to be able to bake this whole-grain snack at home.
Given the typical cost of individually-purchased soft pretzels, this batch is worth about $30, yet the ingredients can be purchased for less than $2 or $3! I mention the price difference because these aren't the easiest things to make, but they're worth it. Really, it's not that hard to make bagels or pretzels at home; it just takes time.
Less tough than more "bagel-like" fare, these pretzels are superb alone or with cheddar cheese broiled on top. When braided snugly and allowed to rise a little longer, they are also exceptional as a base for deli sandwiches.
Note: if you have young children, let them help with the second part of step 5. (See Matt's demo video below.) Our kids love forming the pretzels.
Soft Sourdough Pretzels
Makes 15 pretzels
1 1/2 cups sourdough starter
2 large eggs + enough water to equal 3/4 cup total
1/4 cup packed brown sugar
2 tablespoons canola oil
1 cup whole wheat flour
2 tablespoons gluten
1 1/2 teaspoons salt
3 cups bread flour
2 1/4 teaspoons rapid or instant yeast
2 tablespoons molasses or sugar (for the water)
1 egg (for wash)
2 tablespoons water
2 tablespoons toasted sesame seeds and/or coarse salt (for topping)
* For easier pouring, use the same tablespoon to measure molasses after oil.
Add first nine ingredients (starter through yeast) to a 2-pound capacity bread machine in the manufacturer's recommended order. (These are listed in the order best suited to our machine and instant yeast.)
Run the dough cycle. As with any sourdough recipe in a bread machine, check the dough after the first ten minutes to see if it needs more water or flour. Depending upon the thickness of your starter, it might need a little of one or the other to form a ball. If the dough seems too stiff, add just a tablespoon of water; if too liquid, a tablespoon of bread flour. Add more if needed, one tablespoon at a time, until dough forms a smooth ball.
Remove dough upon completion of dough cycle.
Lightly dust a work surface or Silpat mat with flour. Turn dough out onto prepared surface or mat. With lightly floured hands, stretch dough into a 3/4-inch thick rectangle about 18 inches long and 15 inches wide.
Using a pizza cutter, slice dough lengthwise into 15 strips, 18 inches long by 1-inch wide. Form into pretzel knots. (See video below.)
Cover and allow dough to rise for 30-45 minutes or until doubled in size.
While dough is rising, add 2 tablespoons of molasses or sugar to a large stockpot filled with 6-7 quarts of water and bring to a boil.
Preheat oven to 400° F and cover a large baking sheet with a Silpat mat or a light coat of cooking spray.
After dough has risen, carefully drop pretzels into boiling water in sets of two or three. Boil for 30 seconds on each side without allowing them to touch. Using a slotted spoon, transfer pretzels to a wire rack or floured tea towel to drain, and then boil the next set.
Once dry, place pretzels on prepared baking sheet. Brush with an egg wash (1 egg whisked together with 2 tablespoons of water) and sprinkle with toasted sesame seeds and/or coarse salt. Use quantities based upon your taste preferences. We use about 1/2 teaspoon sesame seeds and just a hint of salt per pretzel.
Bake for 20 minutes, until tops are golden.
Remove to wire racks to cool.
Store in a tightly sealed container at room temperature for 2-3 days.
© Matthew Bohan & Liesl K. Bohan  |  SavvyBaker.com