These cookies make great gifts, but after tasting one, you'll find it hard to give them away. While not exactly low in calories, they contain significantly less sugar and fat than most holiday sweets. Plus, they offer peanut-powered protein and whole grain goodness that can be enjoyed in guilt-free moderation even after your New Year's resolutions are in effect.
Note that the add-ins are treated a little differently in this recipe. If you add all of them in step 5, the M&Ms® will be pulverized. Instead, save the candy for step 8. It takes a little more time to work them into the dough, but the eye-catching results are worth it.
Happy New Year!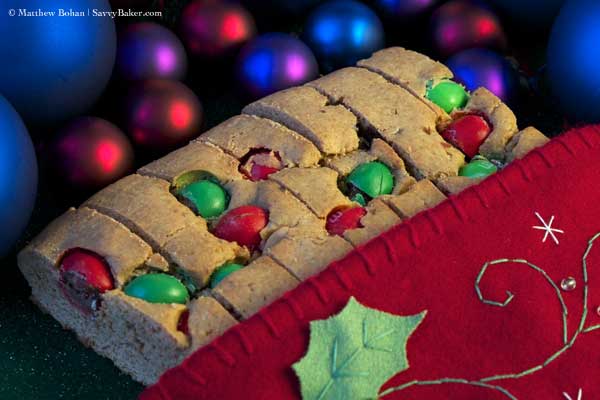 Peanut Butter Party Biscotti
Makes about 24 biscotti
2 3/4 cups 50/50 flour*
2 teaspoons baking powder
3/4 cup creamy peanut butter
3/4 cup packed brown sugar
3 large eggs
1 teaspoon vanilla extract
1/4 cup mini chocolate chips
1/4 cup peanuts
1/2 cup M&Ms® Peanut Chocolate Candies or M&Ms® Peanut Butter Chocolate Candies, divided
* You can buy this off the shelf, but I use a less-expensive homemade mix of all-purpose and whole wheat flour. If you don't have a mix ready, use 1 1/2 cups of all-purpose and 1 1/4 cups whole wheat flour for this recipe.
Preheat oven to 350°F. Cover a large baking sheet with parchment paper or a Silpat mat.
In a medium bowl, whisk together flour and baking powder.
Combine peanut butter, brown sugar, eggs and vanilla in the bowl of an electric mixer and blend on medium-high speed for 2 minutes.
Add flour mix to wet ingredients and blend until dough starts to pull together.
Add chocolate chips and peanuts, mixing until they are fully incorporated. Dough will be stiff.
Turn dough out onto Silpat mat or a work surface dusted with flour and divide into two even pieces.
Using moistened (for Silpat only) or lightly floured hands, shape each piece into a log about 9 inches long, 3 1/2 inches wide and 1 inch thick.
Distribute 1/4 cup of M&Ms® along the top of each log and press into dough.
Bake on prepared pan for 25 minutes, until golden brown.
Remove from oven and cool for 10 minutes. Reduce oven temperature to 325° F.
Carefully transfer logs to cutting board. Using a thin, serrated knife, cut each log into twelve 3/4-inch slices.
Place slices upright on the mat or pan, spacing them about 1/2 inch apart.
Bake 20 minutes at 325° F.
Transfer to wire racks to cool.
Store in an airtight container at room temperature for 5-7 days. To extend storage time, freeze in an airtight container immediately after cooling.
© Liesl K. Bohan  |  SavvyBaker.com