Moister than traditional Irish soda bread yet heavier than a typical scone, this seems a bit like a hybrid of the two. Since it doesn't include a step for "cutting in" butter, this is actually quicker to assemble than either of the others.
Loosely based upon a recipe for soda bread that calls for 2 cups of sour cream, this bread utilizes yogurt instead. Though its active cultures are killed during baking, nonfat yogurt still provides a beneficial dose of calcium and protein—and significantly less fat. For added flavor, this recipe features strawberry yogurt.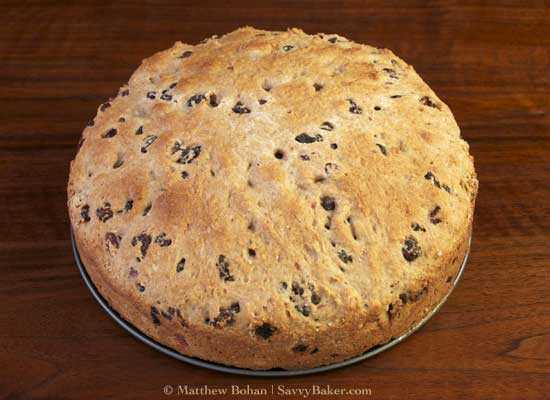 Cranberry Raisin Yogurt Bread
Makes 16 servings
3 1/2 cups 50/50 flour*
1/3 cup sugar
2 teaspoons baking powder
1/2 teaspoon baking soda
1/2 teaspoon salt
2 cups nonfat or lowfat blended strawberry yogurt
2 large eggs
1 cup raisins
1 cup dried cranberries
* You can buy this off the shelf, but I use a homemade mix of all-purpose and whole wheat flour. If you don't have a mix ready, use 1 3/4 cups each of all-purpose and whole wheat flour for this recipe.
Preheat oven to 350° F and mist 9-inch springform pan with cooking spray.
Combine first five ingredients (flour through salt) in a large bowl.
In a separate bowl, whisk together yogurt and eggs.
Add the wet ingredients to the dry ingredients, stirring just until moistened.
Fold in raisins and cranberries.
Transfer dough to prepared pan, pressing evenly into pan with moistened fingers.
Bake for 40-45 minutes, until a toothpick inserted into the center comes out clean.
Place pan on a wire rack and cool for 5 minutes, then remove outer ring.
Cool for another 5-10 minutes before removing bread from bottom of pan.
To serve warm, slice into quarters, and then slice each quarter into 4 pieces, cutting parallel to one of the sliced edges. For toasting, cut narrower slices to get 6 pieces per quarter (including one triangular wedge per quarter).
Store in a tightly sealed container at room temperature for up to two days.
© Liesl K. Bohan  |  SavvyBaker.com