Though too decadent for breakfast, this is nutritious enough to be a guilt-free snack or dessert at other times of the day. This moist cake has enough chips to satisfy a chocolate craving without sugar- and butter-laden frosting. Even so, it reminds us of the name-brand chocolate-frosted banana cakes we used to buy in Cleveland.
Note: the cake in the photo contains large chocolate chips, but I recommend mini chips for better chocolate distribution throughout the cake. For special occasions, you could increase the amount of chocolate chips to 1 cup.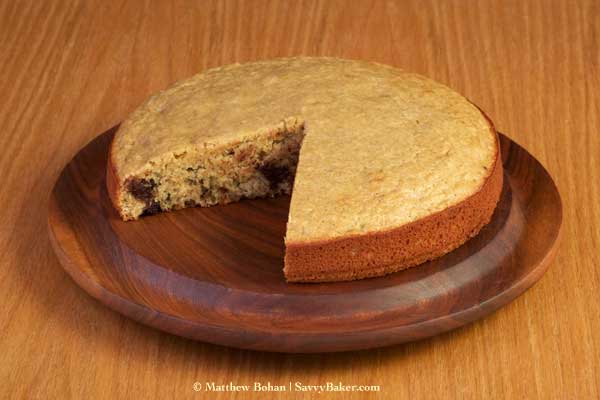 Chocolate Chip Banana Snacking Cake
Makes 16 servings
1 1/2 cups 50/50 flour*
2 tablespoons almond meal
1 teaspoon baking powder
1/4 teaspoon baking soda
1/8 teaspoon salt
2 well-ripened medium bananas
2 large eggs
1/2 cup packed brown sugar
1/3 cup canola oil
1/4 cup nonfat or lowfat vanilla yogurt
1 teaspoon vanilla
3/4 cup mini semisweet chocolate chips
* You can buy this off the shelf, but I use a homemade mix of all-purpose and whole wheat flour.
Preheat oven to 350° F and mist 9-inch springform pan with cooking spray.
Whisk together first five ingredients (flour through salt) in a large bowl.
Put the next six ingredients (bananas through vanilla) in a blender and puree until thoroughly combined.
Add the wet ingredients all at once to the dry ingredients, stirring just until moistened.
Fold in chocolate chips.
Pour batter into prepared pan.
Bake for 35 minutes, until a toothpick inserted into the center comes out clean.
Cool in the pan on a wire rack.
For 16 servings, slice into quarters, and then slice each quarter into 4 pieces, cutting parallel to one of the sliced edges. (not in wedges, as pictured)
Store in a tightly sealed container at room temperature for up to two days.
© Liesl K. Bohan  |  SavvyBaker.com