After perfecting a recipe and getting a good photo, I usually move on to the next experiment. Not with these cookies! They're so addictive that I've baked three batches in less than two weeks.
I love that these gems not only taste scrumptious and have an appealing crunchy-chewy texture, but they are also nutritious. With less sugar and butter than similar cereal-based recipes, they happen to be loaded with all sorts of good-for-you whole grains, protein, vitamins, fiber and minerals.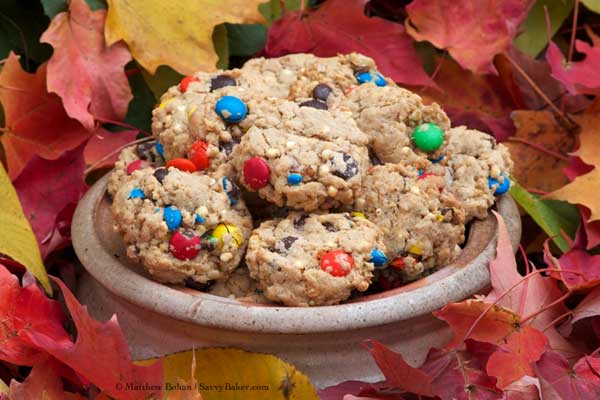 Multigrain Confetti Cookies
Makes about 4 dozen cookies
1 stick unsalted butter
1/2 cup peanut butter
3/4 cup packed brown sugar
3/4 cup sugar
2 eggs
1 teaspoon vanilla
2 cups 50/50 flour*
1 teaspoon baking soda
1/2 teaspoon baking powder
1/2 teaspoon salt
1 cup rolled oats, not instant
1 cup rolled barley or another cup of rolled oats
1 cup corn flakes or bran flakes cereal
1 cup puffed millet or brown rice
1 cup candy-coated dark chocolate morsels
1/2 cup semi-sweet or dark chocolate chips
1/2 cup walnuts, crushed
* Note: You can buy this off the shelf, but I use a less-expensive homemade mix of all-purpose and whole wheat flour. If you don't have a mix ready, use 1 cup each of all-purpose and whole wheat flour for this recipe.
Preheat oven to 350°F.
Cream butter, peanut butter, brown sugar and sugar in a large mixing bowl.
Add eggs and vanilla; beat until fluffy.
Blend in flour, baking soda, baking powder and salt.
Add rolled grains, corn or bran flakes, puffed grains, chocolate candies, chocolate chips and walnuts. Mix well, being careful not to let ingredients fly out of the bowl. Dough will be crumbly.
Drop dough one packed tablespoon at a time onto an ungreased cookie sheet, leaving 2" between cookies. Press to flatten slightly.
Bake 10-12 minutes, until set and slightly golden.
Cool for a couple of minutes on cookie sheet, then remove to a wire rack to cool completely.
Store in a tightly covered container at room temperature for up to three days.
© Liesl K. Bohan  |  SavvyBaker.com