I was hooked from the second I first laid eyes on a recipe for apple cider muffins. The problem with the recipes I've seen—from a "savvy" standpoint—is that they call for an excessive amount of sugar (up to 2 cups for just 12 muffins!), a lot of oil, and full-fat sour cream. I've cut back significantly on the first two items and replaced the third with nonfat yogurt. Despite the changes, these muffins remain sweet and enticingly aromatic, offering an orchard-fresh flavor that will have your family clamoring for seconds and thirds.
"Double" refers the fact that this recipe contains at least two types of apples—not cider. Some ciders boast several types of apples, but my favorite variation of these muffins features Honey Crisp apple cider. As for the added apple, any tart baking variety should do.
I almost always like walnuts in fruit-based muffins like these. If that sounds good to you, omit half of the baking apple and fold in 1/2 cup crushed walnuts instead.

Double Apple Cider Muffins
Makes 12 muffins
1 3/4 cups 50/50 flour*
1/4 cup almond meal
1 1/2 teaspoons baking powder
1/2 teaspoon baking soda
1/2 teaspoon salt
1/2 teaspoon cinnamon
2/3 cup apple cider
1/2 cup packed brown sugar
1/2 cup nonfat or lowfat vanilla yogurt
2 large eggs
1/3 cup canola oil
1 teaspoon vanilla
1 medium baking apple, peeled and shredded (stop at 1 generous cup)
* You can buy this off the shelf, but I use a homemade mix of all-purpose and whole wheat flour.
Preheat oven to 350° F and mist a 12-cup muffin tin with cooking spray.
Whisk together first six ingredients (flour through cinnamon) in a large bowl and set aside.
Add the next six ingredients (cider through vanilla) to a blender and puree until thoroughly combined.
Add the wet ingredients all at once to the dry ingredients, stirring just until moistened.
Fold in apple.
Divide the batter evenly among prepared cups.
Bake for 22-25 minutes, until a toothpick inserted into a muffin's center comes out clean.
Cool muffins in tin on a wire rack for 5 minutes before removing muffins to rack to cool further.
Store in a tightly sealed container at room temperature for 2-3 days.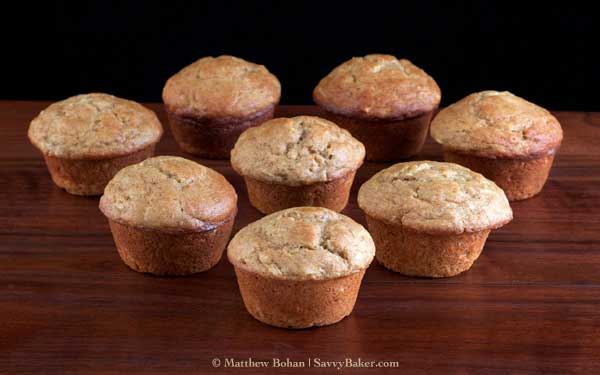 © Liesl K. Bohan  |  SavvyBaker.com