As if refusing to eat peanut butter weren't bad enough, our son has decided he doesn't like cheese or deli meats either. That makes lunch prep a challenge to say the least. Because of the eggs and oats in this bread, I know he's at least getting some protein before he leaves the table. While he prefers it on its own with just a little butter, I also recommend it for deli-style sandwiches or alongside soup or salad.
This loaf utilizes the technology mentioned in my Golden Potato Bread post: a bread machine with a Super Rapid, Express Bake or Rapid Bake option. It takes about 5 minutes to toss all of the ingredients into the pan, and 80 minutes later, it's done! The only extra time required is to let it cool long enough to slice.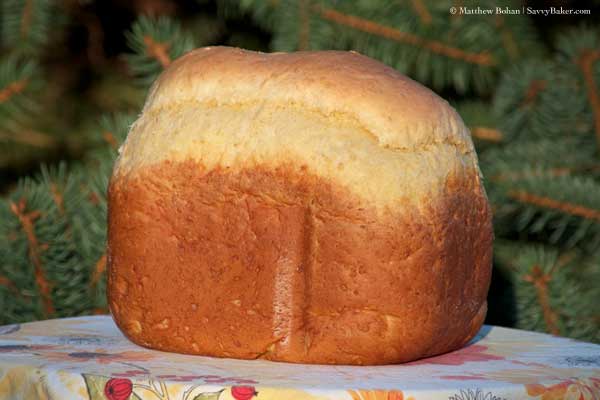 90-Minute Egg Bread
Makes one 2-pound loaf
3 eggs plus warm water to equal 1 1/3 cups
3 tablespoons sugar
3 tablespoons canola oil
1 1/2 teaspoons salt
1 cup rolled oats, not instant
3 cups bread flour
4 1/2 teaspoons rapid or instant yeast
Add all ingredients to bread machine in the manufacturer's recommended order.* Use the Super Rapid, Express Bake or equivalent setting for a 2-pound loaf.
Once baked, cool for 20-30 minutes before slicing.
Store in a tightly sealed container at room temperature for 2-3 days.
* This list is in optimized order for our machine and for mixing instant yeast directly into the bread flour.
© Liesl K. Bohan  |  SavvyBaker.com