Sometimes the nutritional "savviness" of a recipe comes from what is added or substituted, not what is removed. When baking these cookies, Matt decided to stick with the butter and sugar recommendations of the original church-book recipe, but he replaced half of the all-purpose flour with whole wheat flour. He also added a unique mix of nutritious dried fruit that puts these cookies in a class of their own.
Because of their high butter and sugar content, I was reluctant to post these at first, but after multiple trips to the cookie jar, it seemed unjust to exclude them. Seriously, I usually opt for chocolate chips, but the dried pear and cherry combo in these oatmeal cookies is irresistible! (All that extra sugar doesn't hurt the flavor either.) If you want to be savvy with the caloric content, I'm confident these would still be excellent after reducing either type of sugar by half a cup.
We're fortunate to have a dehydrator and two incredibly productive pear trees in our front yard, but if you don't have easy access to inexpensive dried pears, but you could use dried apples instead. You could also swap dried cranberries for the cherries if you like.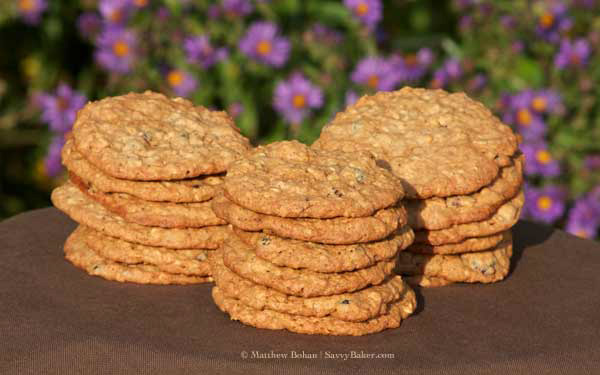 Fall Harvest Oatmeal Cookies
Makes about 3 dozen cookies
1 cup unsalted butter
1 cup sugar
1 cup packed brown sugar
2 eggs
1 teaspoon vanilla
1/2 teaspoon almond extract
1 1/2 cups 50/50 flour*
1 teaspoon baking soda
1 teaspoon salt
1 teaspoon cinnamon
3 cups rolled oats (not instant)
1/2 cup each of dried pears, dried cherries and raisins (1 1/2 cups total)
* Note: You can buy this off the shelf, but I use a less-expensive homemade mix of all-purpose and whole wheat flour. If you don't have a mix ready, use 3/4 cup each of all-purpose and whole wheat flour for this recipe.
Preheat oven to 350°F.
Cream butter, sugar and brown sugar in a large mixing bowl.
Add eggs, vanilla and almond extract, beating well.
Blend in flour, baking soda, salt and cinnamon.
Add oats, dried cherries, dried pears and raisins. Mix well.
Drop by rounded tablespoons onto an ungreased cookie sheet, leaving 2" between cookies.
Bake 12-15 minutes, until set and light golden brown.
Cool for a couple of minutes on cookie sheet, then remove to a wire rack to cool completely.
Store in a tightly covered container at room temperature for up to four days.
© Liesl K. Bohan  |  SavvyBaker.com