Apples. Cider. Cinnamon. The featured flavors of this not-just-for-breakfast dish capture the essence of fall in Michigan, and each crunchy bite provides whole grains, protein, fiber, vitamins and antioxidants. Enjoy a bowl on a gorgeous fall day—or any other time you can get your hands on some fresh apple cider!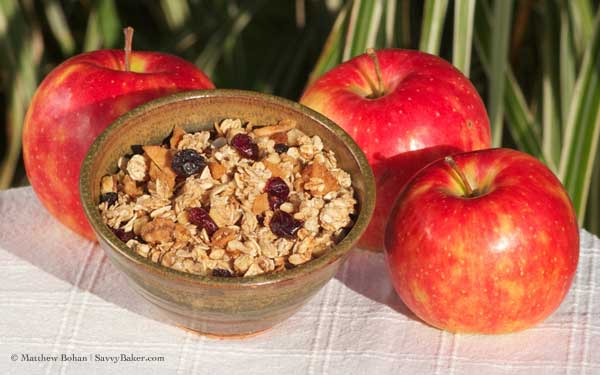 Apple Cider Granola
Makes about 10 half-cup servings
4 cups rolled oats (not instant) or any combination of rolled oats, rye, barley or wheat
1 cup crushed walnuts
1/4 cup nonfat powdered milk
1/2 teaspoon cinnamon
1/2 cup apple cider
1/2 cup brown sugar
2 tablespoons canola oil
1 cup dried apples, chopped (or any combination of dried apples, raisins,
dried cranberries or dried pears)
Preheat oven to 325° F.
Thoroughly combine rolled grains, walnuts, powdered milk and cinnamon in a large bowl.
In a separate bowl, whisk together apple cider, sugar and canola oil.
Pour wet ingredients into dry ingredients, stirring until everything is evenly coated.
Transfer mixture to a 9 x 13-inch pan and distribute evenly.
Bake for 45 minutes, removing pan every 15 minutes to stir granola and prevent burning.
Remove pan, turn oven off, and stir dried fruit into granola.
Return pan to cooling oven, which should remain off.
After 10-15 minutes, remove pan and allow granola to cool completely.
Once cooled, store at room temperature in a tightly sealed container for up to two weeks.
© Liesl K. Bohan  |  SavvyBaker.com