I've seen so many mouth-watering photos of plum tarts that I've been wanting to try one for ages. I finally assembled two this summer: one with a sweet pizza crust and the other with ready-to-go pie crust. Although the latter isn't as heart-healthy, it is the easiest, and that's the one I'm sharing today. To compensate, I added almond meal and wheat germ, boosting the amount of protein and nutrients in each serving.
I usually prefer ice cream and chocolate desserts instead fruit-based options, but this is absolutely, positively plate-licking good. Give it a try!
Be sure to use the right plums, ideally fresh from a farmer's market. Select small to medium, egg-shaped purple Italian prune plums, not the huge round plums typically available at supermarkets. The big ones might work, but eight of those would be way too many.
One last note: serve this on the day you make it, if possible. The mixed flavors of blueberry, plum, apricot and almond are irresistible whether you eat this right away or a day later, but the plums will oxidize and darken overnight. The tart will still be pretty but not out-of-the-oven gorgeous. (In order to use morning light, this photo was taken about 10 hours after the tart was baked. It may not have looked as good as the night before, but sliced, warmed and topped with a touch of whipped cream, it became one of the best breakfasts I've had in long time!)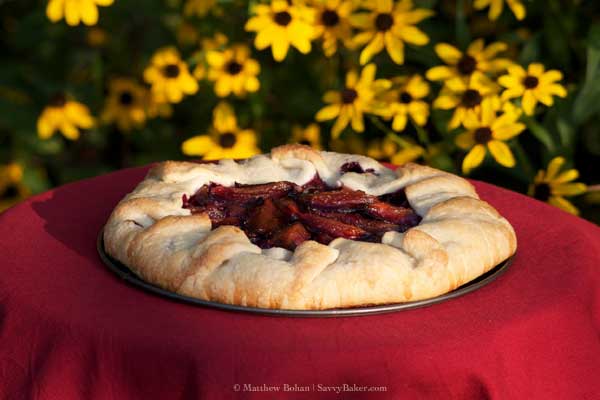 Rustic Plum Berry Tart
Serves 6-8
1 refrigerated 9-inch pie crust (half of a two-crust package)
8 Italian prune plums, quartered into wedges
1/4 cup sugar
1/4 apricot preserves
1/4 cup almond meal
1 teaspoon wheat germ
3/4 cup blueberries
Preheat oven to 375° F and remove pie crust from refrigerator.
Cover a baking sheet with a Silpat mat or lightly floured parchment paper.
Toss together plums and sugar in a large bowl. Allow to stand for at least 15 minutes, stirring occasionally.
Unroll piecrust onto prepared baking sheet.
Spoon apricot preserves onto the center of the crust and gently spread into a 6-inch circle, leaving a 2 1/2-inch border of pie crust.
Sprinkle almond meal and wheat germ evenly over preserves.
Arrange blueberries in one layer on the circle of preserves.
Transfer plums onto the circle of blueberries, arranging them skin side down. Save any sugar and plum juice remaining in the bowl.
Fold crust up and over plums, pleating as you go, leaving a 5-inch opening in the center.
Brush pie crust with excess sugar and plum juice.
Bake at 375° for 35-40 minutes, or until filling bubbles and crust is golden.
Transfer pan to a wire rack to cool for 10 minutes, then carefully transfer Silpat mat or parchment paper to wire rack cool for another 10 minutes.
Slice and serve warm or at room temperature. If desired, top with a dollop of lowfat vanilla ice cream, nonfat whipped topping or nonfat vanilla yogurt).
Store covered at room temperature for up to two days.
© Liesl K. Bohan  |  SavvyBaker.com