Before I explain two unique features of this bread, let me assure you that it tastes great. Toasted sesame oil—found in the Asian sections of most large grocery stores—and toasted sesame seeds lend a wonderful flavor and aroma to this loaf, while milk, cheese and whole grains provide protein and added sustenance. Excellent on its own, this is outstanding with soup and salad. Chopped and toasted, it would also make tantalizing croutons.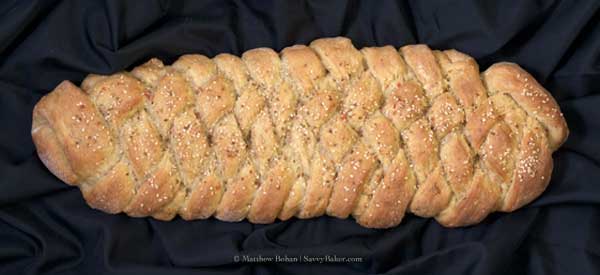 Now, here's the scoop on the first unusual aspect of this loaf. Our mutual aversion to onions led Matt, the "Savvy Husband," to experiment with carrots as a substitute. Having never seen such a swap before, I wouldn't have tried this on my own, but it turned out beautifully. The carrots actually lend more nutrients and color than flavor. In the end, the finished bread looks special, tastes superb and gives our children a small dose of veggies in every bite.
The other unique feature of this recipe is that making a few simple adjustments produces very different but positive results. For an Asian flair, use toasted sesame oil, select a mild cheese and toast the two tablespoons of sesame seeds. To enhance the flavor of the cheese, use canola or olive oil instead of toasted sesame oil, choose a sharp cheese and opt for untoasted sesame seeds.
Our favorite version—and there have been many—is with Dubliner cheese. After purchasing a block for the first time recently, we decided to try it in our eighth or ninth test run, and it was perfect! We don't usually need so many trials, but previous versions kept collapsing to some degree. Fortunately, adding gluten fixed that issue.
Given the work that went into this, mostly by Matt, it seems fitting to run it as the 100th recipe on Savvy Baker. Many thanks to him for his continued support and to all of you who keep coming back! As always, your comments and feedback are welcome.  – Liesl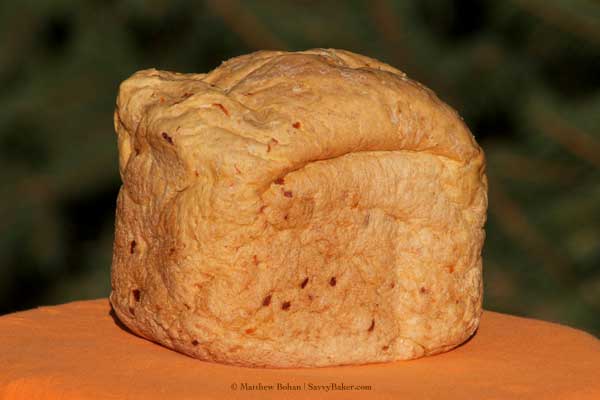 Festive Sesame Bread
Makes one 2-pound loaf
1 1/3 cups nonfat milk
2/3 cup shredded cheddar cheese*
1/2 cup peeled, grated carrots*
2 tablespoons sesame oil, preferably toasted
2 tablespoons lightly toasted sesame seeds**
2 teaspoons vital wheat gluten
1 1/2 teaspoons salt
1 cup rolled oats (not instant)
1 cup whole wheat flour
2 cups bread flour
2 teaspoons rapid or instant yeast
1 teaspoon sesame seeds (optional, for topping)
* Save until add-in beep for machine-only version.
** Sesame seeds can be pan toasted in just a few minutes in a dry skillet over medium heat. Toss or stir frequently to prevent burning.
Dough to Oven Version
Add all ingredients except optional sesame seeds to bread machine in the manufacturer's recommended order and run the dough cycle.
When the dough is ready, cover a large baking sheet with cooking spray or a Silpat mat.
Using lightly floured hands, form dough into a cylinder about the length of the pan, then flatten, slice into thirds lengthwise, and braid. (See Challah post.) Pinch together braided edges. Sprinkle sesame seeds over top, if desired.
Cover and allow dough to rise for 30-45 minutes. Preheat oven to 350° F.
Bake for about 20 minutes or until golden and the bread sounds hollow when tapped.
Once baked, cool for at least 20 minutes before slicing.
Store in a tightly sealed container at room temperature for 2-3 days.
Bread Machine Only
Add all ingredients to bread machine in the manufacturer's recommended order. Use the "basic" setting for a 2-pound loaf. Note: optional sesame seed topping is only for the oven version.
Add cheese and carrots at the add-in beep.
Once baked, cool for at least 30 minutes before slicing.
Store in a tightly sealed container at room temperature for 2-3 days.
© Liesl K. Bohan  |  SavvyBaker.com