This recipe works really well for bread, but I like the muffins even better because they are easier to serve and store. The bread tastes wonderful, but it's so moist that you have to cut large slices to keep it from falling apart. Admittedly, not everyone would consider that a problem.
This is adapted from a bread recipe that was passed along from a friend's friend, and I have no idea who originally published it. My version has more whole grains and significantly less oil—a full cup less. Don't let the lengthy ingredient list intimidate you. It may take a few extra minutes to get everything ready to assemble, but mixing is a snap, and the end result is well worth it.
By the way, I tweaked, tested and perfected the baking powder and soda combination in a batch of muffins after this photo was taken, resulting in an improved rise. This bread looked so good anyway that I didn't have the heart to ask the "Savvy Husband" to take more pictures.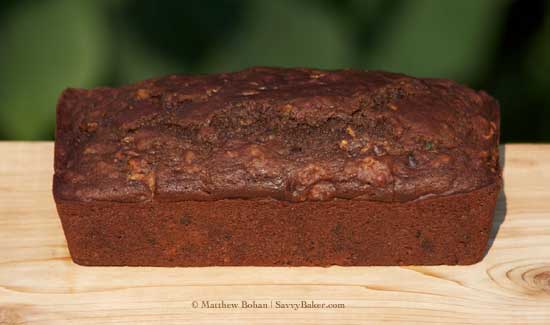 Chocolate Zucchini Nut Muffins
Makes 24 muffins (or 2 loaves of bread)
3 cups 50/50 flour mix*
3/4 cup sugar
1/3 cup cocoa
1/4 cup rolled oats
2 teaspoons baking soda
1 1/2 teaspoons baking powder
1/2 teaspoon salt
3 large eggs
1 cup unsweetened applesauce
1/2 cup nonfat or lowfat vanilla yogurt
1/2 cup packed brown sugar
2/3 cup canola oil
1 tablespoon vanilla
2 1/2 cups grated zucchini
1 1/2 cups crushed walnuts
3/4 cup chocolate chips
* You can buy this off the shelf, but I use a less-expensive homemade mix of all-purpose and whole wheat flour. If you don't have a mix, substitute 1 1/2 cups of each in this recipe.
Preheat oven to 350° F and mist two 12-cup muffin tins with cooking spray.**
Whisk together first seven ingredients (flour through salt) in a large bowl and set aside.
Add the next six ingredients (eggs through vanilla) to a blender and puree until thoroughly combined.
Add zucchini and blend just until combined.
Add the wet ingredients all at once to the dry ingredients, stirring just until moistened.
Fold in walnuts and chocolate chips.
Divide the batter evenly among prepared cups.
Bake for 20-22 minutes, until a toothpick inserted into a muffin's center comes out clean.
Cool muffins in pan on a wire rack for 5 minutes, then remove muffins to rack to cool further.
** For bread, use two standard loaf pans and increase bake time to 50-55 minutes.
Store in a tightly sealed container at room temperature for up to two days.
© Liesl K. Bohan  |  SavvyBaker.com