Simple but elegant—this is the kind of flavor combination you might find in gourmet shops and natural food stores. Fortunately, it's not only easy to make at home, but also less expensive than store bought. This granola has a few other advantages: it's all-natural, low in fat and high in fiber and nutrients.
We're fortunate to have access to dried Michigan cherries at a decent price in bulk. If they cost too much near you, try substituting dried cranberries.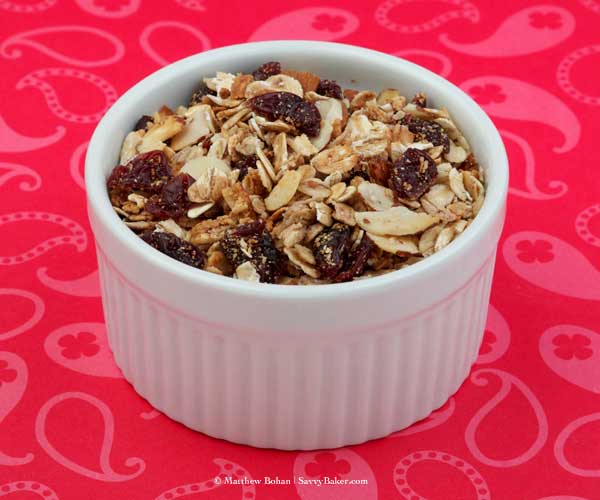 Cherry Almond Granola
Makes about 12 half-cup servings
4 cups rolled oats (not instant) or any combination of rolled oats, rye, barley and wheat
1/2 cup chopped, sliced or slivered almonds
1/2 cup almond meal
1/2 cup honey
2 tablespoons apple juice concentrate, thawed
2 tablespoons butter, melted
1 teaspoon vanilla extract
1 teaspoon almond extract
1 cup dried cherries, chopped
Preheat oven to 300° F and mist a 9 x 13-inch pan with cooking spray.
Thoroughly combine rolled grains, almonds and almond meal in a large bowl.
In a separate bowl, whisk together honey, apple juice concentrate, butter and extracts.
Pour wet ingredients into dry ingredients, stirring until everything is evenly coated.
Transfer mixture to prepared pan and distribute evenly.
Bake for 45 minutes, removing pan every 15 minutes to stir granola and prevent burning.
Remove pan, turn oven off and stir dried cherries into granola.
Return pan to cooling oven, which should remain off.
After 10-15 minutes, remove pan and allow granola to cool completely.
Once cooled, store at room temperature in a tightly sealed container for up to two weeks.
© Liesl K. Bohan  |  SavvyBaker.com