I like to experiment with fruit and yogurt in baked goods. In the right proportions, these ingredients enhance the sweetness, flavor and moisture of muffins and quick breads. In this case, strawberries and bananas proved to be an excellent combination.
In addition to fruit and whole grains, this recipe features a protein boost from almond meal, milk, yogurt and extra egg. The end result? A delicious muffin loaded with nutrients and perfect for breakfast or snack time!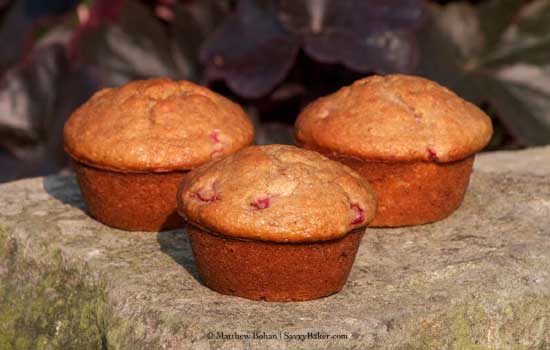 Strawberry Banana Muffins
Makes 12 muffins
1 3/4 cups 50/50 flour*
1/4 cup almond meal
1 1/2 teaspoons baking powder
1/2 teaspoon baking soda
1/2 teaspoon salt
2 well-ripened medium bananas
2 large eggs
1/2 cup packed brown sugar
1/4 cup nonfat milk
1/4 cup nonfat or lowfat strawberry yogurt
1/4 cup canola oil
1 teaspoon vanilla
1 cup fresh strawberries, diced
* You can buy this off the shelf, but I use a less-expensive homemade mix of all-purpose and whole wheat flour.
Preheat oven to 375° F and mist a 12-cup muffin tin with cooking spray.
Whisk together first five ingredients (flour through salt) in a large bowl and set aside.
Add the next seven ingredients (bananas through vanilla) to a blender and puree until thoroughly combined.
Add the wet ingredients all at once to the dry ingredients, stirring just until moistened.
Fold in strawberries.
Divide the batter evenly among prepared cups.
Bake for 25-28 minutes, until a toothpick inserted into a muffin's center comes out clean.
Cool muffins in tin on a wire rack for 5 minutes before removing muffins to rack to cool further.
Store in a tightly sealed container at room temperature for up to two days.
© Liesl K. Bohan  |  SavvyBaker.com